Volcano (POI)
This map/grid location appeared until Season 9 and has since been updated.
Some sublocations, points and mapping might have been removed or changed. Please see Pressure Plant for the latest information about the map.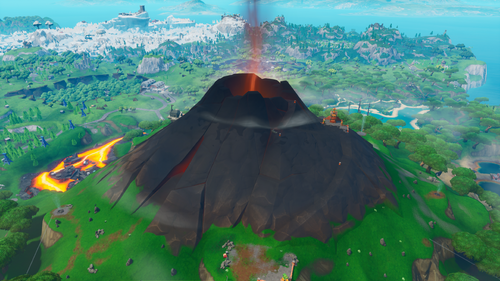 The Volcano (Formerly Wailing Woods) was an Unnamed Landmark in Battle Royale added in Season 8, located inside the coordinate H3 and H4, west of Tomato Temple, southeast of Sunny Steps, southwest of Lazy Lagoon, north of Retail Row, northwest of Lonely Lodge and northeast of Dusty Divot. It was added in Season 8, destroying the Container Yard, hence the containers strewn about the outside of the Volcano, as well as a part of Wailing Woods. It contained The Prisoner's lair and a lot of lava, the inside also included the eggs previously found in Polar Peak. It seemed to be the biggest climbable area on the map. It was a large part of the map and seemed to rival Polar Peak.
Volcano Vents are spread all across the map. In Season 9, most of them stopped working except the ones near the Pressure Plant. In Season 10, the rest of them stopped working. There are no Volcano Vents, or any signs of them ever existing on the new map in Chapter 2 Season 1.
Week 6: The stone woman statue is now in the lava just outside of the Volcano.
Week 8: The stone man statue is now in the lava as well.
April 21st: Steam is coming from out of the volcano.
April 23rd: The steam in the volcano is darker, turning into smoke with the bottom of it being the color of the lava.
April 25th: The smoke gets higher into the sky, making it much more noticeable with the smoke cloud at the top being wider in size. The top of the volcano is giving out a red glow.
April 28th: The smoke turns much darker and even higher than before. The top of the smoke starts to spread out, having the appearance of a tornado. The bottom of the smoke now looks like lava.
May 1st The lava in the volcano would splash when ammo and materials were dropped in the area.
May 3rd: The smoke is thicker and darker.
May 4th: The Volcano erupted causing the smoke to become colossal and The Volcano to spew out lava and fireballs, heavily damaging Polar Peak and Retail Row and destroying Tilted Towers in the process.
The Volcano has been taken over by the government and updated and was renamed to Pressure Plant. It has also collapsed partially, probably because of the eruption.
The Volcano Vents are close to the cracks from Season 7, however this may be a coincidence.
The Volcano is surrounded by dense jungle that provide bananas and coconuts.
The Volcano is the second location that replaced a location that was removed. It replaced Wailing Woods in Season 8 and was later replaced by Pressure Plant in Season 9.
Battle Royale Geography
Chapter 2 Named Locations
 

Grid Coordinates

North West
North
North East
West
Central
East
South West
South
South East
Chapter 1 Named Locations