Tomatohead (outfit)
Tomatohead
Description
Extra saucey.
Details
Rarity
Epic
Type
Outfit
Source
Item Shop
Cost
1,500 V-Bucks
Set
Pizza Pit
Release Date (UTC-)

Apr 21, 2018

The in-game store updates at 00:00 UTC daily, which means that the eastern and western halves of the world are on different dates when the shop updates. This UTC- date applies to North and South America and French Polynesia.

Date incorrect? Please edit this page. For more info see Help:Dates.

Release Date (UTC+)

Apr 22, 2018

The in-game store updates at 00:00 UTC daily, which means that the eastern and western halves of the world are on different dates when the shop updates. This UTC+ date applies to Europe, Africa, Asia, and Oceania/Australia.

Date incorrect? Please edit this page. For more info see Help:Dates.

Character Model
Renegade
Item ID
cid_109_athena_commando_m_pizza
Tomatohead is an Epic Outfit with

in Battle Royale that can be purchased from the Item Shop. The Special Delivery Back Bling is bundled with this outfit. In the V5.30, a set of challenges were given to owners of Tomatohead. Players that completed the challenges were awarded a selectable style for the Outfit. On August 15th 2019 an altered version of Tomatohead called Hothouse was released as part of The Leftovers (set).
Default

Requirement
Buy the Outfit
Appearances: 3
The original concept for Tomatohead was submitted by Reddit user /u/tursuboi to /r/FortniteBR roughly three months before appearing in-game [1].
The pizza on Tomatohead's shirt actually has pineapple chunks on it.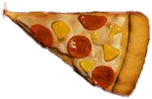 Outfits
Season 1 Chapter 2 Battle Pass