Talk:Season X/10

This page is used for discussing improvements to the page Season X/10.
Please click here to start a new topic. Don't forget to sign your posts with ~~~~.
My Prediction for Season 10/X!
[
edit source
]
Enjoy this pic.
UPDATE: Unvaulted the OG TEC-9 Submachine Gun, and vaulted the Proximity Grenade Launcher.
Grossfan19 (talk) 16:40, 29 July 2019 (UTC)GrossFan19
My Prediction for Season 10/X!
[
edit source
]
nice i think that could work and heres mine and btw can i put up the third teaser
Epicsgameryttw (talk) 17:01, 29 July 2019 (UTC)
Season 10 or Season X?
[
edit source
]
I think the page should be officially referred to as season 10. Sure, the trailer referred it to as season x and all. However, the patch notes and blog posts by fortnite title this as season 10. Also season 10 is the most formal name.
What do you think? Please leave your thoughts down below! Suchaepicboi (talk) 21:34, 14 September 2019 (UTC)

1. No blog post or patch note has ever referred to it as Season 10. The version number does not need to represent the official season number.
2. A tweet from Epic Games' Nick Chester: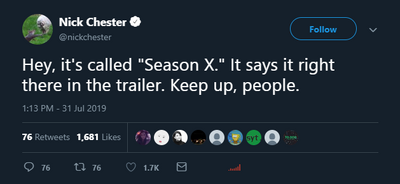 Angeld23 TV (talk) 22:30, 14 September 2019 (UTC)

I think it should be season 10 so people who don't know roman numerals would know it (btw I just redirected it to Season 10/X) Epicsgameryttw (talk) 02:03, 15 September 2019 (UTC)
Huh??? For people who don't know roman numerals?? Literally everyone knows that it's called Season X, and even if they went to the page for "Season 10", they would be redirected to Season X. Gotta come up with a better excuse than that. Angeld23 TV (talk) 17:50, 15 September 2019 (UTC)
Call it Season 10 and X because this season has been referred to as both by epic games plus none of this drama happened until you came along, Angeld23 TV User:Bestgamereveryt (talk) 20:30, 15 September 2019 (UTC)