Sharky Shell (POI)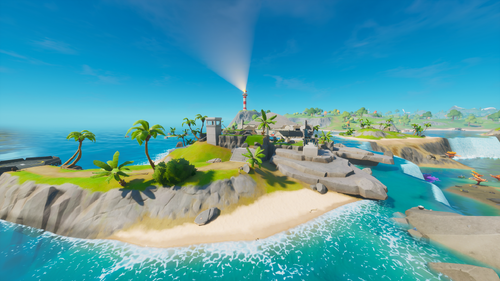 Sharky Shell is a Landmark in Battle Royale added in Chapter 2 Season 3, located inside the coordinate B1, north of Coral Castle, far north of Sweaty Sands, west of Lockie's Lighthouse, and northwest of Pleasant Park, in the top leftmost corner of the map. It is an island with a large destroyed prison that used to be owned by Ghost with a rock formation in the outline of a shark.
Sharky Shell (POI) Top View
* Click on the map to view geographic sub-locations.
The Shark has flooded and has turned into Sharky Shell.
July 30th: The water has receded and Sharky Shell is almost fully returned.
August 1st: Sharky Shell is completely unflooded, and is connected to the sinkhole of the much larger Coral Castle POI.
Interestingly, even though Sharky Shell is no longer a Henchmen POI, there is still a Phone Booth which can disguise you as a Ghost Henchmen. This is likely because Epic Games forgot to remove it when updating the POI.
Despite there being a helipad in Sharky Shell, there is no Choppa spawning there. This may mean that Skye and co. escaped The Shark before it flooded.