Race Track (POI)
This map location is inside the combination of coordinates: J6 J7.
Sublocation, points and chest placements that can be found outside Race Track (POI) might be listed under the grid coordinates of the area.
Race Track was an Unnamed Landmark in Battle Royale added in Season 1, located inside the coordinate I6, J6, I7 and J7, between Mansion and Paradise Palms. The Dirt Track on the same location in Season 4 was revamped and upgraded to full motorcourse race track in Season 5.
Race Track (POI) Top View
* Click on the map to view geographic sub-locations.
Concourse (Main Hall)
Crowd Bleachers
Garage
TACOS restaurant
The Dirt Track was added to the map. At the point, it consisted of a dirt racetrack with few wooden buildings around it. Since there was no vehicles in the game at this point, the Race Track wasn't very useful.
A meteor landed near the racetrack, creating a crater.
Shopping Carts were added to the race track to have a vehicle to race around the track with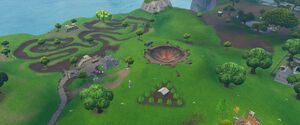 The Dirt Track has been revamped with a full concrete motorcourse tracks.
December 25th: The Race Track was covered in snow for Christmas Day.
December 26th: The snow disappeared.
January 19th: The Race Track was covered in snow in the aftermath of the Ice Storm Event.
January 31st: The snow melted from The Race Track.
October 13th: The Race Track was sucked into a black hole.
Battle Royale Geography
Chapter 2 Named Locations
 

Grid Coordinates

North West
North
North East
West
Central
East
South West
South
South East
Chapter 1 Named Locations