Pristine Point (POI)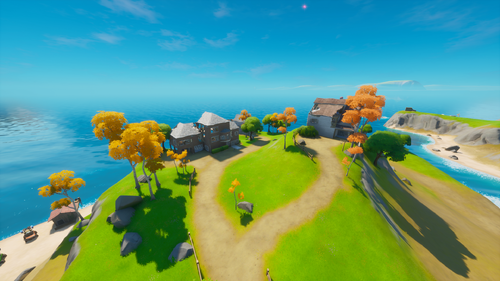 Pristine Point is a Landmark in Battle Royale added in Chapter 2 Season 1, located inside the coordinate G1, east of Craggy Cliffs and northwest of Steamy Stacks. It is composed of three worn-out houses by the shore, damaged by a landslide. The name of this landmark seems to be ironic as the definition of pristine is "clean and fresh as if new". It also has
7 Chests.
Pristine Point (POI) Top View
* Click on the map to view geographic sub-locations.
Large collapsed brick house
Collapsed white house
Not collapsed white house
Pristine Point was added to the map.
October 29th: Halloween decorations have been added to Pristine Point for the Fortnitemares event, and furniture has become haunted and begun to float.
November 5th: The Halloween decorations have been removed from Pristine Point, and furniture is no longer haunted.
The water level rose up to the Pristine Point, partially flooding a house.
The water level lowered slightly, revealing all of the Pristine Point.
From the Fortnitemares Challenges, this location is also referred to as Ghost Town.
This landmark looks similar to Polar Peak did after Cattus escaped it.

This is because Polar Peak collapsed down a mountain, suggesting that Pristine Point collapsed via landslide.
Battle Royale Geography
Chapter 2 Named Locations
 

Grid Coordinates

North West
North
North East
West
Central
East
South West
South
South East
Chapter 1 Named Locations