Outfit
Outfits are Cosmetic items obtainable in Battle Royale and Save the World. They may be purchased with V-Bucks and earned through the Battle Pass or granted by some unique events or promotions. They are purely cosmetic and do not grant the player any competitive advantage. Outfits are usually referred to as "Skins" by the Playerbase.
Rarities include: Common, Uncommon, Rare, Epic, Legendary
Series include: Marvel Series, DC Series, Star Wars Series, Dark Series, Frozen Series, Lava Series, Shadow Series, Slurp Series, Icon Series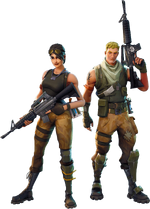 In Battle Royale and Creative modes, any new player will have eight different skins, the outfits are known as the recruits. The player has no control over which of those characters they play as when using the default outfit, which is determined at random at the start of each play session.
The eight characters that one may play as in each session while using default option are all from the Soldier class in the Save the World mode, with four characters from either gender. The four current male characters are Carlos, Jonesy, Hector and Mansu, and the four current female characters are Banshee, Rio, Ramirez and Emmy. The characters are all dressed in typical military tactical gear.
The previous recruit outfits are: Hawk, Headhunter, Renegade, Spitfire and Wildcat.
As seen in the Battle Royale launch trailer, the recruits were the first available skins in the Battle Royale mode when it was first launched in the fall of 2017, and have been available to all players ever since, although some outfits have been removed and added over the seasons. Players can unlock alternate outfits through purchasing on the Item Shop using V-Bucks or through getting it as a reward on Challenges or in Battle Passes.
The China version of Fortnite Battle Royale has had some exclusive recruit outfits to play as. These consist of Rio, which later became a recruit outfit to play as in normal Battle Royale, Evelynn and more. You can also play as the normal recruit outfits in this version of Battle Royale though.
| Image | Name | Rarity | Type | Set | Description | Cost | Source |
| --- | --- | --- | --- | --- | --- | --- | --- |
| | 8-Ball Vs Scratch | Epic | Outfit | Stripes and Solids | Rack 'em up! | | Battle Pass Chapter 2 Season 1 |
| | A.I.M. | Legendary | Outfit | A.I.M. | Scanning area for targets... | | Battle Pass Season 6, Hunting Party Challenges |
| | Absolute Zero | Rare | Outfit | Arctic Command | Freeze out the competition. | 1200 | Item Shop |
| | Abstrakt | Epic | Outfit | Aerosol Assassins | The writing's on the wall. | 1500 | Item Shop |
| | Adeline | Rare | Outfit | Colorway | Don't get caught wearing last season's looks. | 1200 | Item Shop |
| | Aerial Assault Trooper | Rare | Outfit | | Rare aerial assault trooper outfit. | 1200 | Season Shop |
| | Aerial Threat | Rare | Outfit | Goalbound | Represent your country in style! | 1200 | Item Shop |
| | Aerobic Assassin | Epic | Outfit | Spandex Squad | Flex your victory muscles. | 1500 | Item Shop |
| | Aeronaut | Rare | Outfit | Sky Stalker | Journey beyond the edge of the sky. | 1200 | Item Shop |
| | Agent Jonesy | Uncommon | Outfit | | Espionage suits him well. | | |
| | Agent Peely | Epic | Outfit | Banana Royale | He's got a license to peel. | | Battle Pass Chapter 2 Season 2 |
| | Airhead | Rare | Outfit | | Pop into action. | 1200 | Item Shop |
| | Airheart | Rare | Outfit | Aviation Age | Setting records flying solo. | 1200 | Item Shop |
| | Alpine Ace | Epic | Outfit | Winter Ski | So Aerodynamic! | 1500 | Item Shop |
| | Anarchy Agent | Uncommon | Outfit | Anarchy | Go your own way. | 800 | Item Shop |
| | Antheia | Epic | Outfit | Courageous Era | Guardian of forgotten lands. | 1500 | Item Shop |
| | Aquaman | DC Series | Outfit | Aquaman | The undisputed king of the sea. | | Battle Pass Chapter 2 Season 3, Aquaman Challenges |
| | Arachne | Legendary | Outfit | Arachnid | Weave a web to victory. | 2000 | Item Shop |
| | Arachne Couture | Epic | Outfit | Crypt Crashers | What a fabulous web we weave... | 2800 | Crypt Crashers Pack |
| | Archetype | Epic | Outfit | Archetype | Engineered for combat performance. | 1500 | Item Shop, Archetype Bundle |
| | Arctic Assassin | Rare | Outfit | Arctic Command | Stay frosty. | 1200 | Item Shop |
| | Arctic Intel | Uncommon | Outfit | Permafrost | Leave 'em out in the cold. | 800 | Item Shop |
| | Arctica | Rare | Outfit | Polar Ace | Overcoming the frozen cliffs. | 1200 | Item Shop |
| | Ark | Legendary | Outfit | Eternal Struggle | Upholding the principles of righteous victory. | 2000 | Item Shop |
| | Armadillo | Uncommon | Outfit | | Thick skinned and battle hardened. | 800 | Item Shop |
| | Asmodeus | Rare | Outfit | Battle Rites | Stare down your enemies. | 1200 | Item Shop |
| | Assault Trooper | Uncommon | Outfit | | Uncommon assault trooper outfit. | 800 | Item Shop |
| | Astra | Epic | Outfit | Shooting Stars | A constellation of skill and talent. | 1500 | Item Shop, Annual Pass 2020 |
| | Astro Assassin | Epic | Outfit | | Out of this atmosphere. | 1500 | Item Shop |
| | Astro Jack | Icon Series | Outfit | Travis Scott | Out of this world. | 2000 | Item Shop, Astronomical Bundle |
| | Athleisure Assassin | Rare | Outfit | Run The World | Definitely not off-the-rack. | 1200 | Item Shop |
| | Atlantean Fishstick | Rare | Outfit | Fishlantis | King of the Fishsticks | 1200 | Item Shop |
| | Aura | Uncommon | Outfit | | Get the goods in style. | 800 | Item Shop |
| | Aura Analyzer | Uncommon | Outfit | Ghostbusters | Master of the metaphysical. | 800 | Item Shop, Ghostbusters Patrol |
| | Axiom | Rare | Outfit | Third Eye | Envision the win. | 1200 | Item Shop |
| | Axo | Rare | Outfit | Axolotl Attack! | Here to see if life on dry land lives up to the hype. | 1200 | Item Shop |
| | B.R.U.T.E Gunner | Uncommon | Outfit | B.R.U.T.E Squad | Navigation and execution. | 800 | Item Shop |
| | B.R.U.T.E Navigator | Uncommon | Outfit | B.R.U.T.E Squad | Precision and determination. | 800 | Item Shop |
| | Baba Yaga | Rare | Outfit | Coven Fresh | Do you hear the sound of chicken legs...? | 1200 | Item Shop |
| | Bachii | Rare | Outfit | Battle Bun | Adorably mysterious. | 1200 | Item Shop |
| | Backbone | Rare | Outfit | Biker Brigade | King of the highway. | 1200 | Item Shop |
| | Backlash | Legendary | Outfit | Boundless | Strike back. | 1800 | Item Shop |
| | Bandolette | Rare | Outfit | Tropic Troopers | Unrivaled ambush predator of the jungle. | 1200 | Item Shop |
| | Bandolier | Epic | Outfit | Tropic Troopers | No shirt. No surrender. | 1500 | Item Shop |
| | Banner Trooper | Uncommon | Outfit | Banner Brigade | Show your true colors. | 800 | Item Shop |
| | Bao Bros | Epic | Outfit | Bao Bros | Steamed up and ready for action. | 1500 | Item Shop |
| | Barracuda | Rare | Outfit | Saltwater Strike | Careful, she'll get her hooks in you. | 1200 | Item Shop |
| | Bash | Epic | Outfit | The Leftovers | When good llamas go bad. | 1500 | Item Shop, Bash Bundle, Brilliant Bomber Bundle, Annual Pass 2020 |
| | Batman Comic Book Outfit | DC Series | Outfit | Gotham City | The World's Greatest Detective. | | Batman Caped Crusader Pack |
| | Battle Hound | Legendary | Outfit | Laoch | Release the hound! | 2000 | Item Shop |
| | Battlehawk | Epic | Outfit | Advanced Forces | Swoop in and claim victory. | | Battle Pass Season 4 |
| | Beach Bomber | Rare | Outfit | Sunshine & Rainbows | Make the beach party brite! | 1200 | Item Shop |
| | Beastmode | Epic | Outfit | Mechanimal | Gassed up and ready to roar. | 1500 | Item Shop |
| | Beef Boss | Epic | Outfit | Durrr Burger | Victory well done. | 1500 | Item Shop |
| | Bendie | Rare | Outfit | Hot Air | Plagued by uncontrollable fits of bending. | 1200 | Item Shop |
| | Big Chuggus | Slurp Series | Outfit | Slurp Squad | Small chugguses need not apply. | 1500 | Item Shop |
| | Big Mouth | Epic | Outfit | Fearsome Freaks | Seeking victory, breath mints, and souls. | 1500 | Item Shop |
| | Bigfoot | Rare | Outfit | Bigfoot | International man of mystery | 1200 | Item Shop |
| | Birdie | Uncommon | Outfit | Teed Off | No mulligans required. | 800 | Item Shop |
| | Biz | Rare | Outfit | Roughneck | Nothing personal, its just business. | 1200 | Item Shop |
| | Black Knight | Legendary | Outfit | Fort Knights | The odious scourge of Wailing Woods. | | Battle Pass Season 2 |
| | Black Manta | DC Series | Outfit | Black Manta | Merciless undersea mercenary. | 1500 | Item Shop |
| | Black Widow Outfit | Marvel | Outfit | Avengers | Whatever it takes. | 1500 | Item Shop |
| | Blackheart | Legendary | Outfit | Scallywags | The dreaded captain of the stormy seas. | | Battle Pass Season 8 |
| | Blacklight | Epic | Outfit | Final Reckoning | Fear the light. | | The Final Reckoning Pack |
| | Blade | Marvel | Outfit | Blade | Eric Brooks: The Daywalker | 2000 | Item Shop, Blade Bundle |
| | Blastoff | Legendary | Outfit | Boundless | 3... 2... 1... you know the rest. | 1800 | Item Shop |
| | Blaze | Lava Series | Outfit | Renegade Flame | Fill the world with flames. | 1500 | Item Shop |
| | Blitz | Epic | Outfit | Fourth Down | Catch 'em off guard. | 1500 | Item Shop |
| | Blockade Runner | Rare | Outfit | Spycraft | Break through enemy lines. | 1200 | Item Shop |
| | Blue Squire | Rare | Outfit | Fort Knights | The bold warrior of Moisty Mire. | | Battle Pass Season 2 |
| | Blue Striker | Epic | Outfit | | Make victory your reality. | | Playstation Plus Celebration Pack 2 |
| | Blue Team Leader | Rare | Outfit | | Lead your squad to victory. | | Playstation Plus Celebration Pack |
| | Bolt | Uncommon | Outfit | Raging Storm | Fearless skytrooper | 800 | Item Shop |
| | Bone Boss | Epic | Outfit | Skull Squad | Bone-in beefy boss. | | Skull Squad Pack |
| | Bone Ravage | Epic | Outfit | Skull Squad | Circling underground, shrouded by skulls... | | Skull Squad Pack |
| | Bone Wasp | Epic | Outfit | Sting | Victory runs bone deep. | 1500 | Item Shop |
| | Bonehead | Epic | Outfit | Burning Bone | Show them your inner fire. | 1500 | Item Shop |
| | Boxer | Uncommon | Outfit | Special Delivery | He always knows which side is up. | 800 | Item Shop |
| | Boxy | Uncommon | Outfit | Special Delivery | Ship out and send 'em packing. | 800 | Item Shop |
| | Bracer | Uncommon | Outfit | | Advanced tactics, classic cool. | 800 | Item Shop |
| | Brainiac | Uncommon | Outfit | | Victory takes braaaains. | 800 | Item Shop |
| | Branded Brawler | Uncommon | Outfit | Banner Brigade | Show your true colors. | 800 | Item Shop |
| | Branded Brigadier | Uncommon | Outfit | Banner Brigade | Show your true colours | 800 | Item Shop |
| | Bravo Leader | Rare | Outfit | Waypoint | Take point. | 1200 | Item Shop |
| | Brawler | Rare | Outfit | | Rare brawler outfit. | 1200 | Item Shop |
| | Breakpoint | Rare | Outfit | Waypoint | Disrupt. Distract. Dominate. | | Breakpoint's Challenge Pack |
| | Brilliant Bomber | Rare | Outfit | Sunshine & Rainbows | Show your shine. | | Brilliant Bomber Bundle, Annual Pass 2020 |
| | Brilliant Striker | Rare | Outfit | | Strike true. | 1200 | Item Shop |
| | Brite Blaster | Rare | Outfit | Sunshine & Rainbows | Life's a blast. | 1200 | Item Shop |
| | Brite Bomber | Rare | Outfit | Sunshine & Rainbows | The future looks bright... | 1200 | Item Shop |
| | Brite Gunner | Epic | Outfit | Sunshine & Rainbows | Look on the bright side. | 1500 | Item Shop |
| | Bronto | Rare | Outfit | Dino Guard | Eatin' plants and takin' names | 1200 | Item Shop |
| | Brutus | Epic | Outfit | Brute Force | Don't make him tell you twice. | | Battle Pass Chapter 2 Season 2 |
| | Bryce 3000 | Rare | Outfit | Brobotics | Influencer. Fashonista. Robot. | 1200 | Item Shop |
| | Bryne | Rare | Outfit | Reef Royalty | A genuine Atlantean princess. | 1200 | Item Shop |
| | Bubble Bomber | Rare | Outfit | Bubblegum | Candy-colored commando. | 1200 | Item Shop |
| | Buccaneer | Rare | Outfit | Scallywags | Sail the salty seas. | 1200 | Item Shop |
| | Bull Shark | Rare | Outfit | Fathoms Deep | Mess with the bull, you get the shark. | 1200 | Item Shop |
| | Bullseye | Uncommon | Outfit | Bullseye | I never miss. | 800 | Item Shop |
| | Bun Bun | Epic | Outfit | Choco | If you see him coming you'd better run run. | 1500 | Item Shop |
| | Bundles | Rare | Outfit | Royale Hearts | Bundle up for the battle. | 1200 | Item Shop |
| | Bunker Jonesy | Epic | Outfit | Bunker Days | Debunk'd. | | Battle Pass Season 9 |
| | Bunny Brawler | Epic | Outfit | Pastel Patrol | Hop into action. | 1500 | Item Shop |
| | Bunnymoon | Uncommon | Outfit | | The night of the full moon. | 800 | Item Shop |
| | Bunnywolf | Epic | Outfit | Neon Jungle | Your animal power glows through. | 1500 | Item Shop |
| | Burial Threat | Rare | Outfit | Dead Ball | Represent your crypt in style. | 1200 | Item Shop |
| | Burnout | Epic | Outfit | RPM | All roads lead to victory. | 1500 | Item Shop |
| | Bushranger | Rare | Outfit | Woodsy | He's one scrappy little tree. | 1200 | Item Shop |
| | Cabbie | Uncommon | Outfit | Racer Royale | First to the fare. First to the finishline. | 800 | Item Shop |
| | Cable | Marvel | Outfit | X-Force | Seasoned soldier and master battle strategist. | 1500 | Item Shop, X-Force Outfits |
| | Calamity | Legendary | Outfit | Western Wilds | From ranch hand to righteous retribution. | | Battle Pass Season 6 |
| | Callisto | Rare | Outfit | Battle Rites | Demon creeps and monsters beware. | 1200 | Item Shop |
| | Cameo Vs Chic | Epic | Outfit | Standout Style | Make your appearance. | | Battle Pass Chapter 2 Season 1 |
| | Candyman | Epic | Outfit | Wild Hearts | Here comes truffle. | 1500 | Item Shop |
| | Captain America | Marvel | Outfit | Avengers | Super soldier Steve Rogers stands as an enduring sentinel of liberty. | 2000 | Item Shop |
| | Carbide | Legendary | Outfit | Carbide | Heed the call to action. | | Battle Pass Season 4 |
| | Castaway Jonesy | Uncommon | Outfit | | He's not lost, okay? | 800 | Item Shop |
| | Castor | Epic | Outfit | Arcane Arts | The wandering warlock of Wailing Woods. | 1500 | Item Shop |
| | Catalyst | Legendary | Outfit | Drift | Alter the paradigm. | | Battle Pass Season 10 |
| | Catastrophe | Rare | Outfit | Hazcat | Sharpen your claws. | 1200 | Item Shop |
| | Catrina | Epic | Outfit | Final Reckoning | The queen of the harvest. | | The Final Reckoning Pack |
| | Catwoman Comic Book Outfit | DC Series | Outfit | Gotham City | Gotham's Feline Femme Fatale. | 1500 | Item Shop, Catwoman Pack |
| | Caution | Uncommon | Outfit | Beacons | Stay alert, danger is all around. | 800 | Item Shop |
| | Chance | Rare | Outfit | Spring Spirit | Leave it to chance. | 1200 | Item Shop |
| | Chaos Agent | Epic | Outfit | Final Reckoning | Undermine the order from the shadows. | 1500 | Item Shop |
| | Chaos Double Agent | Epic | Outfit | Double Agent | Chaos beyond measure. | 2500 | Double Agent Pack |
| | Chief Hopper | Epic | Outfit | Stranger Things | Hawkins PD's finest | 1500 | Item Shop |
| | Chill Count | Uncommon | Outfit | Permafrost | Fight like the wind. | 800 | Item Shop |
| | Chillout | Uncommon | Outfit | Permafrost | Stay cool, victory awaits. | 800 | Item Shop |
| | Chomp Sr. | Legendary | Outfit | Chomp | Take a bite out of victory. | 2000 | Item Shop |
| | Chopper | Rare | Outfit | Biker Brigade | No one crosses Chopper and rides away.. | 1200 | Item Shop |
| | Chromium | Rare | Outfit | Solid Steel | Solid to the core. | 1200 | Item Shop |
| | Cipher | Rare | Outfit | Overclocked | Decoding the opposition's weakness. | 1200 | Item Shop |
| | Circuit Breaker | Rare | Outfit | Overclocked | The deadliest keyboard cowboy in the west. | 1200 | Item Shop |
| | Clash | Uncommon | Outfit | Beacons | Wherever she goes trouble follows. | 800 | Item Shop |
| | Clinical Crosser | Rare | Outfit | Goalbound | Represent your country in style! | 1200 | Item Shop |
| | Cloaked Shadow | Epic | Outfit | | Cast a ominous shadow. | 1500 | Item Shop |
| | Cloaked Star | Epic | Outfit | | Cloaked in mystery. | 1500 | Item Shop |
| | Cloudbreaker | Rare | Outfit | Aviation Age | Turbulent by nature. | 1200 | Item Shop |
| | Clover Team Leader | Uncommon | Outfit | | Spread the luck. | 800 | Item Shop |
| | Clutch | Epic | Outfit | Hang Time | Clutch under pressure. | 1800 | Item Shop, Hang Time Bundle |
| | Cobalt | Epic | Outfit | | Search and destroy. | | Cobalt Starter Pack |
| | Codename E.L.F. | Rare | Outfit | Polar Legends | Elusive. Lethal. Festive. | 1200 | Item Shop, Polar Legends Pack |
| | Cole | Uncommon | Outfit | | It's a dirty job but somebody's gotta do it. | 800 | Item Shop |
| | Comfy Chomps | Rare | Outfit | Feeding Frenzy | Kick back and get chompin. | 1200 | Item Shop |
| | Commando | Uncommon | Outfit | | Uncommon commando outfit. | 800 | Item Shop |
| | Containment Specialist | Uncommon | Outfit | Ghostbusters | Ghosts? Not on his watch. | 800 | Item Shop, Ghostbusters Crew |
| | Contract Giller | Rare | Outfit | Bassassin | Send in the fish. | | Bassassin Challenge Pack |
| | Copper Wasp | Epic | Outfit | Kata Tech | Karate master known for his vicious sting. | 1500 | Item Shop |
| | Corrupted Arachne | Epic | Outfit | Web of Corruption | Weave a web of corruption... to victory. | | Corrupted Legends Pack |
| | Corrupted Insight | Epic | Outfit | Web of Corruption | Target in sight and totally corrupted. | | Corrupted Legends Pack |
| | Corrupted Shogun | Epic | Outfit | Web of Corruption | Suited for the ultimate corruption. | | Corrupted Legends Pack |
| | Corrupted Voyager | Epic | Outfit | Space Explorers | Spread the corruption. | 1500 | Item Shop |
| | Cozy Chomps | Rare | Outfit | Feeding Frenzy | Take life one chomp at a time. | 1200 | Item Shop |
| | Cozy Commander | Uncommon | Outfit | Cozy Command | Winning doesn't mean being uncomfortable. | 800 | Item Shop |
| | Crackabella | Epic | Outfit | Nutcracker | She's a hard nut to crack. | 1500 | Item Shop |
| | Crackshot | Legendary | Outfit | Nutcracker | Get out there and... crack some nuts. | 2000 | Item Shop |
| | Crimson Elite | Uncommon | Outfit | Nightfire | A true legend on the rise. | 800 | Item Shop |
| | Crimson Scout | Uncommon | Outfit | | A dashing and deadly scout. | 800 | Item Shop |
| | Criterion | Legendary | Outfit | Criterion | Unwavering dedication. | 2000 | Item Shop |
| | Crusher | Uncommon | Outfit | Wild Hearts | Taking down hearts from the top rope. | 800 | Item Shop |
| | Crustina | Uncommon | Outfit | Pizza Pitfighter | Saucy, Spicy, Right Behind You. | 800 | Item Shop |
| | Crypt Crosser | Rare | Outfit | Dead Ball | Represent your crypt in style. | 1200 | Item Shop |
| | Cryptic | Rare | Outfit | Cryptic | Master of mistery. | 1200 | Item Shop |
| | Crystal | Uncommon | Outfit | | Clarity, wits and vision. | 800 | Item Shop |
| | Cuddle Team Leader | Legendary | Outfit | Royale Hearts | Hug it out. | 2000 | Item Shop |
| | Cuddlepool | Marvel | Outfit | Deadpool | Ferociously furry. | 1500 | Item Shop, Deadpool Mashups |
| | Curse Buster | Uncommon | Outfit | Ghostbusters | There's more to worry about than ghosts... | 800 | Item Shop, Ghostbusters Patrol |
| | Cutiepie | Rare | Outfit | Nightmare Yule | I hope you've been good this year... | 1200 | Item Shop |
| | Cyclo | Legendary | Outfit | | Defy the storm. | 2000 | Item Shop |
| | Danger Zone | Rare | Outfit | Zone Wars | Embrace danger. | 1600 | Item Shop, Zone Wars Bundle |
| | Dante | Epic | Outfit | Muertos | Back for more. | 1500 | Item Shop |
| | Dare | Rare | Outfit | | Dare to dream. | 1200 | Item Shop |
| | Daredevil | Marvel | Outfit | Daredevil | Matt Murdock: The Man Without Fear | 1500 | Item Shop, Daredevil Cup, Daredevil Bundle |
| | Daring Duelist | Epic | Outfit | Scallywags | En garde! | 1500 | Item Shop |
| | Dark Bomber | Dark Series | Outfit | Lightning & Thunderstorms | The future looks dark. | 1200 | Item Shop |
| | Dark Jonesy | Dark Series | Outfit | | He has seen beyond the darkness... | | Dark Reflections Pack |
| | Dark Power Chord | Dark Series | Outfit | Volume 11 | Rock on in the darkness. | | Darkfire Bundle |
| | Dark Red Knight | Dark Series | Outfit | Fort Knights | Protector of the infinite realm. | | Dark Reflections Pack |
| | Dark Rex | Dark Series | Outfit | Dino Guard | The dark king of the dino guard. | 1200 | Item Shop |
| | Dark Skully | Dark Series | Outfit | Darkening | The dreaded master of stylish domination. | | |
| | Dark Tricera Ops | Dark Series | Outfit | Dino Guard | Sink your teeth into darkness. | 1200 | Item Shop, Switch Cup Japan |
| | Dark Vanguard | Legendary | Outfit | Space Explorers | Exploring the outer limits. | 2000 | Item Shop |
| | Dark Vertex | Legendary | Outfit | Dark Apex | Return from the darkness. | | Xbox One S Bundle 2 |
| | Dark Voyager | Legendary | Outfit | Space Explorers | From the vast darkness of deep space. | | Battle Pass Season 3 |
| | Dark Wild Card | Dark Series | Outfit | Getaway Gang | Deal a little darkness. | | Dark Reflections Pack |
| | Darkheart | Dark Series | Outfit | Team Heartbreak | Statuesque heart breaker. | 1500 | Item Shop |
| | Dazzle | Rare | Outfit | Hyper | The dominator of Dusty Depot. | 1200 | Item Shop |
| | Deadeye | Legendary | Outfit | Dark Visions | Bounty hunter from beyond the grave. | 2000 | Item Shop |
| | Deadfall | Uncommon | Outfit | Siege Strike | Relentless. | 800 | Item Shop |
| | Deadfire | Legendary | Outfit | Western Wilds | This town ain't big enough... | 2000 | Item Shop |
| | Deadlock | Rare | Outfit | Crypto Collective | Break in without getting your hands dirty. | 1200 | Item Shop |
| | Deadpool | Marvel | Outfit | Deadpool | The merc with a mouth. | | Deadpool's Weekly Challenges |
| | Decaying Dribbler | Rare | Outfit | Dead Ball | Represent your crypt in style. | 1200 | Item Shop |
| | Deep Sea Destroyer | Epic | Outfit | Deep Sea | Straight out of the trenches. | 1500 | Item Shop |
| | Deep Sea Dominator | Epic | Outfit | Deep Sea | In a completely different league. | 1500 | Item Shop |
| | Delirium | Epic | Outfit | Arcane Arts | Don't worry, it's only a nightmare. | 1500 | Item Shop |
| | Demi | Epic | Outfit | Scarlet Dragon | Armed with power of the dragon. | | Battle Pass Season 9 |
| | Demogorgon | Rare | Outfit | Stranger Things | Turn the battle upside down. | 1200 | Item Shop |
| | Deo | Epic | Outfit | Ancient Voyager | His journey continues. | 1500 | Item Shop |
| | Depth Dealer | Rare | Outfit | Open Water | Deep six the competition. | 1200 | Item Shop |
| | Derby Dynamo | Epic | Outfit | Rink Raiders | Just try putting her in the penalty box. | | Derby Dynamo Challenge Pack |
| | Desert Dominator | Uncommon | Outfit | | Battle tested munitions expert. | 800 | Item Shop |
| | Desperado | Rare | Outfit | | Rare desperado outfit. | 1200 | Item Shop |
| | Devastator | Uncommon | Outfit | Storm Fusion | Dominate the eye of the storm. | 800 | Item Shop |
| | Diecast | Rare | Outfit | Solid Steel | The die has been cast. | 1200 | Item Shop |
| | Dire | Legendary | Outfit | Full Moon | Leader of The Pack. | | Battle Pass Season 6 |
| | Disco Diva | Rare | Outfit | Fortnite Fever | Make way for the queen of the dance floor. | 1200 | Item Shop |
| | DJ Bop | Legendary | Outfit | Twin Turntables | Lose yourself in the beat. | 2000 | Item Shop |
| | DJ Yonder | Epic | Outfit | Twin Turntables | Packing a playlist for the perfect party. | | Battle Pass Season 6 |
| | Doctor Doom | Marvel | Outfit | Doctor Doom | Eternal ruler of Latveria. He is Doom. | | Battle Pass Chapter 2 Season 4 |
| | Doggo | Epic | Outfit | Grumble Gang | Who's a good boy? | 1500 | Item Shop |
| | Dolph | Rare | Outfit | Winter Wonderland | He came to sleigh. | 1200 | Item Shop |
| | Dominator | Uncommon | Outfit | Storm Fusion | One step ahead of the pack | 800 | Item Shop |
| | Dominion | Epic | Outfit | Diabolical | Set the world on fire. | 1500 | Item Shop |
| | Domino | Marvel | Outfit | X-Force | Make your own luck. | 1500 | Item Shop, X-Force Outfits |
| | Double Agent Hush | Epic | Outfit | Double Agent | Haunt your enemy's every move. | 2500 | Double Agent Pack |
| | Double Agent Wildcard | Epic | Outfit | Double Agent | Everything according to plan. | 2500 | Double Agent Pack |
| | Double Helix | Epic | Outfit | Double Helix | Spiral toward victory | | Nintendo Switch Bundle |
| | Doublecross | Rare | Outfit | Red Lily | Never turn your back. | 1200 | Item Shop |
| | Dread Fate | Epic | Outfit | Darkening | May they dread their encounter with fate. | 1800 | Item Shop |
| | Dread Omen | Epic | Outfit | Darkening | Your victory is dreaded by many. | 1500 | Item Shop |
| | Dream | Rare | Outfit | Broken Light | Light breaks through. | 1200 | Item Shop |
| | Dreamflower | Epic | Outfit | Flower Power | Can you dig it? | 1500 | Item Shop |
| | Drift | Legendary | Outfit | Drift | Journey into the unknown, and find your way to victory. | | Battle Pass Season 5 |
| | Dummy | Rare | Outfit | Dummy Brigade | Look out! | 1200 | Item Shop |
| | Dusk | Epic | Outfit | Nite Coven | Creatures of the night pack a dangerous bite. | | Battle Pass Season 6 |
| | Dynamic Dribbler | Rare | Outfit | Goalbound | Represent your country in style! | 1200 | Item Shop |
| | Dynamo | Rare | Outfit | Lucha | Rule the ring. | 1200 | Item Shop |
| | Dynamo Dancer | Legendary | Outfit | Boundless | Go where your will takes you. | 1800 | Item Shop |
| | Echo | Rare | Outfit | Twin Echo | Are you real, or just a reflection? | 1200 | Item Shop |
| | Ecto Expert | Uncommon | Outfit | Ghostbusters | A true ectoplasmic mastermind. | 800 | Item Shop, Ghostbusters Crew |
| | Elite Agent | Epic | Outfit | Black Vector | Failure is not an option. | | Battle Pass Season 3 |
| | Elmira | Epic | Outfit | Arcane Arts | She'll literally charm you. | 1500 | Item Shop |
| | Ember | Epic | Outfit | Ashen Guard | Take steady aim with hands of flame. | | Battle Pass Season 8 |
| | End Zone | Epic | Outfit | Fourth Down | Deep in opposition territory. | 1500 | Item Shop |
| | Enforcer | Legendary | Outfit | | Balance and order must be restored. | | Battle Pass Season 5, Road Trip Challenges |
| | Envision | Rare | Outfit | Neo Ninja | Shine bright. Strike fast. | 1200 | Item Shop |
| | Envoy | Uncommon | Outfit | | There is no such thing as second best. | 800 | Item Shop |
| | Eon | Legendary | Outfit | Eon | Timeless design. | | Xbox One S Bundle 1 |
| | Eternal Knight | Legendary | Outfit | Honor Shining | Honor shines eternal. | | Battle Pass Chapter 2 Season 3 |
| | Eternal Voyager | Epic | Outfit | Space Explorers | From beyond the shadows of the galaxy's edge. | | Battle Pass Season 10 |
| | Ether | Epic | Outfit | Neochaser | Infiltrate and conquer. | 1500 | Item Shop |
| | Ex | Uncommon | Outfit | Assassin X | Cross out the competition. | 800 | Item Shop |
| | Fable | Epic | Outfit | Red Riding | The forest isn't safe... from her. | | Battle Pass Season 6 |
| | Facet | Rare | Outfit | | Multifaceted combat specialist. | 1200 | Item Shop |
| | Fade | Legendary | Outfit | Fade Out | Far from home, the journey must continue. | | Battle Pass Chapter 2 Season 3 |
| | Fallen Love Ranger | Dark Series | Outfit | Royale Hearts | Love hurts. | | Fallen Love Ranger Challenge Pack |
| | Far Out Man | Epic | Outfit | Flower Power | Out of sight. | 1500 | Item Shop |
| | Farmer Steel | Rare | Outfit | Farm Stand | They trampled his corn. Now they're gonna pay. | 1200 | Item Shop |
| | Fastball | Rare | Outfit | Three Strikes | Another victory is on deck. | 1200 | Item Shop |
| | Fatal Finisher | Rare | Outfit | Dead Ball | Represent your crypt in style. | 1200 | Item Shop |
| | Fate | Legendary | Outfit | Overseer | Prepare to meet your fate. | 2000 | Item Shop |
| | Fennix | Rare | Outfit | Fur Force | Never outfoxed. | 1200 | Item Shop |
| | Field Surgeon | Epic | Outfit | Support Squadron | Scalpel! | 1500 | Item Shop |
| | Finesse Finisher | Rare | Outfit | Goalbound | Represent your country in style! | 1200 | Item Shop |
| | Finn | Star Wars Series | Outfit | The New Trilogy | Former stormtrooper and now committed Resistance member. | 1500 | Item Shop, Rise of Skywalker Pack |
| | Firebrand | Legendary | Outfit | Boundless | Danger on the event horizon. | 1800 | Item Shop |
| | Firewalker | Rare | Outfit | | Fueled by flames. | 1200 | Item Shop |
| | Fireworks Team Leader | Epic | Outfit | Stars & Stripes | Life, liberty, and the bear suit of happiness. | 1500 | Item Shop |
| | First Strike Specialist | Rare | Outfit | | Rare first strike specialist outfit. | 1200 | Item Shop |
| | Fishskull | Epic | Outfit | Skull Squad | Maki Master strikes again. | | Skull Squad Pack |
| | Fishstick | Rare | Outfit | Fish Food | Keep far away from Maki Master. | 1200 | Item Shop |
| | Flapjackie | Epic | Outfit | Animal Jackets | Loves pancakes almost as much as victory. | 1500 | Item Shop |
| | Flare | Epic | Outfit | Stormlight | Burn bright. | 1500 | Item Shop |
| | Flatfoot | Rare | Outfit | Cold Case | Stay on your toes. | 1200 | Item Shop |
| | Flutter | Rare | Outfit | Chrysalis Crew | Take flight. | 1200 | Item Shop |
| | Flytrap | Legendary | Outfit | Flytrap | Deviously inescapable. | 2000 | Item Shop |
| | Focus | Rare | Outfit | Focal Point | Visualize the future. | 1200 | Item Shop |
| | Fortune | Rare | Outfit | Sharp Style | Take charge of your fortune. | 1200 | Item Shop |
| | Freestyle | Epic | Outfit | | Follow the beat. Secure the win. | 1500 | Item Shop |
| | Frontier | Rare | Outfit | Western Wilds | Ruttle em' up and head out. | 1200 | Item Shop |
| | Frostbite | Legendary | Outfit | Deep Freeze | Brave the cold. | | The Deep Freeze Bundle |
| | Frosted Flurry | Rare | Outfit | | Every day's a snow day. | 1200 | Item Shop |
| | Frozen Fishstick | Frozen Series | Outfit | Polar Legends | Show 'em how fresh frozen can be. | | Polar Legends Pack |
| | Frozen Love Ranger | Frozen Series | Outfit | Frozen Legends | Aim for the coldhearted. | | Frozen Legends Pack |
| | Frozen Nog Ops | Frozen Series | Outfit | Polar Legends | Bring some chill to the skirmish. | | Polar Legends Pack |
| | Frozen Raven | Frozen Series | Outfit | Frozen Legends | Brooding master of frozen feathers. | | Frozen Legends Pack |
| | Frozen Red Knight | Frozen Series | Outfit | Frozen Legends | Frozen menace of icy tundra. | | Frozen Legends Pack |
| | Funk Ops | Epic | Outfit | Fortnite Fever | Boogie on down to umbrella town. | 1500 | Item Shop, Funk Ops Bundle |
| | Fusion | Legendary | Outfit | Fusion | Merged into one. | | Battle Pass Chapter 2 Season 1 |
| | Fyra | Epic | Outfit | Primal Hunters | Lives for the chase. | 1500 | Item Shop |
| | Gage | Uncommon | Outfit | | Instigate. Escalate. Overcome. | 800 | Item Shop |
| | Galaxy | Epic | Outfit | Galaxy | Victory is written in the stars. | | Samsung Purchase Bonus |
| | Galaxy Scout | Legendary | Outfit | Galaxy Pack | Discover victory in the stars. | 2000 | Item Shop, Galaxy Pack, Galaxy Cup |
| | Gan | Rare | Outfit | Wise Warrior | Harness the graceful flow of the elements. | 1200 | Item Shop |
| | Garrison | Uncommon | Outfit | | Hold down the fort. | 800 | Item Shop |
| | Gear Specialist Maya | Legendary | Outfit | Custom | Choose a unique path. | | Battle Pass Chapter 2 Season 2 |
| | Gemini | Epic | Outfit | Space Hop | Prepare for interstellar hop. | | |
| | GHOST Beach Brawler | Rare | Outfit | | Hit the beach. | | |
| | Ghoul Trooper | Epic | Outfit | | Epic ghoul trooper outfit. | 1500 | Item Shop |
| | Giddy-Up | Epic | Outfit | Llama Rodeo | Yee-haw! | | Battle Pass Season 6 |
| | Ginger Gunner | Epic | Outfit | Gingerbread | Spread some holiday fear. | 1500 | Item Shop |
| | Glimmer | Legendary | Outfit | Winter Wonderland | Elegantly reclaiming winter's crown. | 2000 | Item Shop |
| | Globe Shaker | Epic | Outfit | Frosty Fights | Make it snow. | 1500 | Item Shop |
| | Glow | Legendary | Outfit | Overseer | The aura of victory glows bright. | | Samsung Galaxy Note10 promotions |
| | Gnash | Epic | Outfit | Ultimate Reckoning | Haunted and heartbroken. | | Ultimate Reckoning Pack |
| | Goldie | Rare | Outfit | At Large | Run the game. | 1200 | Item Shop |
| | Grave | Epic | Outfit | Ultimate Reckoning | Leather and roses are the last things you'll see. | | Ultimate Reckoning Pack |
| | Gridiron | Epic | Outfit | Fourth Down | Dominate the field. | 1500 | Item Shop |
| | Grill Sergeant | Uncommon | Outfit | Durrr Burger | Make it sizzle. | 800 | Item Shop |
| | Grim Fable | Epic | Outfit | Red Riding | Once upon a time... | 1500 | Item Shop |
| | Grimbles | Rare | Outfit | | This garden gnome is at home on the roam in a snowy biome. | 1200 | Item Shop |
| | Grimoire | Epic | Outfit | Forsaken | Soul-reaper of the near future. | 1500 | Item Shop |
| | Grind | Epic | Outfit | Hang Time | Greatness is forever. | 1800 | Hang Time Bundle |
| | Grit | Uncommon | Outfit | | The will and skill to outlast. | 800 | Item Shop |
| | Groot | Marvel | Outfit | Groot | He is Groot. | | Battle Pass Chapter 2 Season 4 |
| | Growler | Epic | Outfit | Animal Jackets | This good boy is not afraid to bare his teeth. | 1500 | Item Shop |
| | Guaco | Rare | Outfit | The Leftovers | Stay crunchy, Guaco's comin... | 1200 | Item Shop |
| | Guan Yu | Epic | Outfit | Guan Yu | Loyalty and bravery at all times. | 1500 | Item Shop |
| | Guff | Rare | Outfit | Mythical Might | Don't fluff with Guff. | 1200 | Item Shop |
| | Guild | Uncommon | Outfit | | On the path to riches. | 800 | Item Shop |
| | Gumshoe | Epic | Outfit | Hardboiled | The kid's got gumption. | 1500 | Item Shop |
| | Gutbomb | Epic | Outfit | The Leftovers | A good burger gone bad... | 1500 | Item Shop |
| | Hacivat | Epic | Outfit | Hacivat | From lore to legend. | 1500 | Item Shop |
| | Hailstorm | Uncommon | Outfit | Permafrost | The onslaught begins now.... | 800 | Item Shop |
| | Hard Charger | Uncommon | Outfit | RPM | Gassed up and ready to ride. | 800 | Item Shop |
| | Harley Quinn | DC Series | Outfit | Gotham City | Mind over mayhem. | | Item Shop, Harley Quinn Bundle |
| | Haunt Officer | Uncommon | Outfit | Ghostbusters | Who's in charge of this haunt? | 800 | Item Shop, Ghostbusters Crew |
| | Havoc | Legendary | Outfit | | Striking fear into the opposition. | | Twitch Prime Pack 1 |
| | Hay Man | Epic | Outfit | Straw Stuffed | Scare. Those. Crows. | 1500 | Item Shop |
| | Hayseed | Uncommon | Outfit | Fatal Fielders | Roll up your sleeves and battle the field. | 800 | Item Shop |
| | Hazard Agent | Epic | Outfit | Outbreak | Warning: Hazardous! | 1500 | Item Shop |
| | Haze | Rare | Outfit | Midnight Star | A dark star on the rise. | 1200 | Item Shop |
| | Headlock | Rare | Outfit | Vicious Vice | Unleash your hunger. | 1200 | Item Shop |
| | Heartbreaker | Rare | Outfit | Royale Hearts | Roses are red, violets are blue, victory is sweet, but not without you. | 1200 | Item Shop |
| | Heidi | Epic | Outfit | Oktoberfest | Fest with the best. | 1500 | Item Shop |
| | Heist | Rare | Outfit | Getaway Gang | Get in. Get out. Get paid. | 1200 | Item Shop |
| | Hemlock | Epic | Outfit | Arcane Arts | The future is witchy. | 1500 | Item Shop |
| | Highland Warrior | Epic | Outfit | Laoch | The shadow of Ulster. | 1500 | Item Shop, Highland Warrior Bundle |
| | Highrise Assault Trooper | Uncommon | Outfit | | Rise to the top. | 800 | Item Shop |
| | Hime | Legendary | Outfit | Bushido | Catlike grace under pressure. | 2000 | Item Shop |
| | Hit Man | Epic | Outfit | Ready Aim Fire! | Dress for the job you want? | 1500 | Item Shop |
| | Hollowhead | Epic | Outfit | Pumpkin Patch | All tricks. No treats. | 1500 | Item Shop |
| | Holly Jammer | Uncommon | Outfit | Cozy Command | Keep it cozy. | 800 | Item Shop |
| | Honor Guard | Epic | Outfit | | Battle with honor. | | HONOR 20 Series device |
| | Hopper | Rare | Outfit | Hoppity Heist | Hop into the heist. | 1200 | Item Shop |
| | Hot Zone | Rare | Outfit | Zone Wars | Turn up the heat. | 1600 | Item Shop, Zone Wars Bundle |
| | Hothouse | Epic | Outfit | The Leftovers | You feelin' the heat? | 1500 | Item Shop |
| | Hotwire | Epic | Outfit | Wild Shock | Get Amped. | 1500 | Item Shop |
| | Hugo | Rare | Outfit | Espionage | Style, stealth, and unpredictability. | 1200 | Item Shop |
| | Hunter | Legendary | Outfit | Boundless | Always find your target. | 1800 | Item Shop |
| | Huntress | Epic | Outfit | Norse | The fearless raider from storm-tossed seas. | | Battle Pass Season 5 |
| | Hush | Rare | Outfit | Silent Stalkers | Silence the opposition. | 1200 | Item Shop |
| | Hybrid | Legendary | Outfit | Brood | Become the dragon. | | Battle Pass Season 8 |
| | Hyperion | Rare | Outfit | Hyper | The gladiator of Greasy Grove. | 1200 | Item Shop |
| | Hypernova | Rare | Outfit | Tech Ops | Undeniable. | 1200 | Item Shop |
| | Hypersonic | Legendary | Outfit | Boundless | First to the crime, every time. | 1800 | Item Shop |
| | Ice Intercept | Uncommon | Outfit | Permafrost | Slide into action. | 800 | Item Shop |
| | Ice Stalker | Uncommon | Outfit | Permafrost | Stalk the snowy plains. | 800 | Item Shop |
| | IKONIK | Epic | Outfit | IKONIK | Define the moment. | | Samsung Galaxy S10 promotions |
| | Imperial Stormtrooper | Star Wars Series | Outfit | Original Trilogy | Wear the armor of an Imperial stormtrooper. | 1500 | Item Shop, Star Wars Jedi: Fallen Order |
| | Inferno | Legendary | Outfit | Inferno | Ignite your inner fire. | | Inferno's Challenge Pack |
| | Infiltrator | Rare | Outfit | | Rare infiltrator outfit. | 1200 | Item Shop |
| | Infinity | Epic | Outfit | Star Walker | Victory is in the stars. | 1500 | Item Shop |
| | Insight | Rare | Outfit | Ranged Recon | Target in sight. | 1200 | Item Shop |
| | Instinct | Rare | Outfit | Counterattack | Victory comes naturally. | 1200 | Item Shop |
| | Interceptor | Epic | Outfit | Fourth Down | Take what's theirs. | 1500 | Item Shop |
| | Iris | Rare | Outfit | Vivid Vision | Keep the competition in your sights. | | Iris Starter Pack |
| | Jack Gourdon | Epic | Outfit | Pumpkin Patch | Squash the competition. | 1500 | Item Shop |
| | Jade Racer | Rare | Outfit | Ancients Reborn | Driving towards harmony. | 1200 | Item Shop |
| | Jaeger | Epic | Outfit | Primal Hunters | Leading the hunt. | 1500 | Item Shop |
| | Jawbreaker | Rare | Outfit | Final Reckoning | She's playing the most delicious game. | 1200 | Item Shop |
| | Jellie | Rare | Outfit | Fish Food | The anemone you don't want for an enemy. | 1200 | Item Shop |
| | Jennifer Walters | Marvel | Outfit | She-Hulk | Brains or brawn... Why not both? | | Battle Pass Chapter 2 Season 4 |
| | John Wick | Legendary | Outfit | John Wick | Every action has consequences. | 2000 | Item Shop |
| | Jolly Jammer | Uncommon | Outfit | Cozy Command | Toasty warm and ready for the fight. | 800 | Item Shop |
| | Joltara | Legendary | Outfit | Boundless | Champion of the solar winds. | 1800 | Item Shop |
| | Journey Vs Hazard | Rare | Outfit | Ascension | Time to climb. | | Battle Pass Chapter 2 Season 1 |
| | Juke | Epic | Outfit | Fourth Down | Leave them in your dust. | 1500 | Item Shop |
| | Jules | Epic | Outfit | Intrepid Engines | Engineering perfection with a mysterious twist. | | Battle Pass Chapter 2 Season 3 |
| | Jumpshot | Rare | Outfit | Half Court | Vertical victory. | 1200 | Item Shop |
| | Jungle Scout | Uncommon | Outfit | | Blaze a trail to victory. | 800 | Item Shop |
| | K-Pop | | Outfit | | | | |
| | Kalia | Rare | Outfit | Island Warrior | The island warrior has arrived. | 1200 | Item Shop |
| | Kane | Epic | Outfit | Nightmare Yule | Manic minty monster. | 1500 | Item Shop |
| | Kenji | Epic | Outfit | Falcon Clan | Strike from the shadows. | 1500 | Item Shop |
| | King Flamingo | Uncommon | Outfit | Flamingo | Some of us were born to fly... | 800 | Item Shop |
| | King Krab | Rare | Outfit | Surf & Turf | Behold my luminous krabulosity! Glow style glows at night | 1200 | Item Shop |
| | Kit | Epic | Outfit | Mecha Kitty | Proudly following in his father's pawprints. | | Battle Pass Chapter 2 Season 3 |
| | Kitbash | Epic | Outfit | Boneyard | Show 'em what you're made of. | 1500 | Item Shop |
| | Knockout | Uncommon | Outfit | Siege Strike | Precise. | 800 | Item Shop |
| | Komplex | Rare | Outfit | Aerosol Assassins | The world's waiting, make your mark. | 1200 | Australian Summer Splash Cup 2020, Item Shop |
| | Krampus | Legendary | Outfit | Krampus | Here comes the anti-claus... | 2000 | Item Shop |
| | Kuno | Epic | Outfit | Falcon Clan | Master the art of deception. | 1500 | Item Shop |
| | Kurohomura | Epic | Outfit | Battle Breakers | Born of fire and destined for greatness. | 1500 | Item Shop |
| | Kylo Ren | Star Wars Series | Outfit | The New Trilogy | Supreme Leader of the First Order. | 1500 | Item Shop |
| | Kyra | Rare | Outfit | Impact | Never afraid to stand out. | 1200 | Item Shop |
| | Lace | Epic | Outfit | Ouroboros | Lives for the thrill of the frill. | 1500 | Item Shop |
| | Lada | Uncommon | Outfit | Taco Time | Spicy and saucy. | 800 | Item Shop |
| | Laguna | Rare | Outfit | Beach Battalion | Storm the beach. | | Laguna Starter Pack |
| | Leviathan | Legendary | Outfit | Space Explorers | Call me fishman. | 2000 | Item Shop, Leviathan Bundle |
| | Lil Whip | Epic | Outfit | Two Scoops | Whipped up and ready to serve. | 1500 | Item Shop |
| | Limelight | Rare | Outfit | Citron | Bold trendsetter with a sour twist. | 1200 | Item Shop |
| | Liteshow | Uncommon | Outfit | Neon Glow | Light it up! | 800 | Item Shop |
| | LLion | Epic | Outfit | Neon Jungle | Prowl the neon night. | 1500 | Item Shop |
| | Longshot | Rare | Outfit | Ranged Recon | No target is out of range. | 1200 | Item Shop |
| | Loserfruit | Icon Series | Outfit | Loserfruit | Good vibes only. | 1500 | Item Shop, Loserfruit Bundle |
| | Love Ranger | Legendary | Outfit | Royale Hearts | Aim for the heart. | 2000 | Item Shop |
| | Lovethorn | Epic | Outfit | Wild Hearts | The dark side of romance. | 1500 | Item Shop |
| | Lt. Evergreen | Epic | Outfit | Piney Fresh | Just a tree here, move along. | | Winterfest |
| | Lt. Logo | Uncommon | Outfit | Banner Brigade | Show off your true colors. | 800 | Item Shop |
| | Lucky Rider | Epic | Outfit | Green Clover | Ride on and make your own luck. | 1500 | Item Shop |
| | Ludwig | Epic | Outfit | Oktoberfest | Best of the wurst. | 1500 | Item Shop |
| | Luminos | Epic | Outfit | Interstellar | From the dark side to the light. | 1500 | Item Shop |
| | Luxe | Legendary | Outfit | 24K | Don't try me. I'm unstoppable. | | Battle Pass Season 8 |
| | Lynx | Legendary | Outfit | Lynx | Who needs nine lives when one is enough? | | Battle Pass Season 7 |
| | Madcap | Epic | Outfit | Fungus King | The master of mushrooms enters the fight. | | |
| | Magnus | Legendary | Outfit | Norse | Conquer The Storm. | 2000 | Item Shop |
| | Major Lazer | Icon Series | Outfit | Lazerism | Peace is the mission. | 1600 | Item Shop, Major Lazer Bundle |
| | Maki Master | Rare | Outfit | Sushi | Roll up your sleeves and get to work. | 1200 | Item Shop |
| | Malcore | Epic | Outfit | Eternal Struggle | Malevolent to the core. | 1500 | Item Shop |
| | Malice | Legendary | Outfit | Diabolical | Misery is her playground. | 2000 | Item Shop |
| | Manic | Uncommon | Outfit | | Show 'em your game face. | 800 | Item Shop |
| | Mariana | Epic | Outfit | Sea Glow | Champion of the ocean's light. | 1500 | Item Shop |
| | Marino | Rare | Outfit | Beach Battalion | Tame the tropics. | 1200 | Item Shop |
| | Marked Marauder | Uncommon | Outfit | Banner Brigade | Show off your true colors. | 800 | Item Shop |
| | Marshmello | Icon Series | Outfit | Marshmello | Start the party. | 1500 | Item Shop, Marshmello Bundle |
| | Masked Fury | Rare | Outfit | Lucha | Who's behind the mask? | 1200 | Item Shop |
| | Master Key | Epic | Outfit | Key Force | Unlock your true potential. The key lies within. | | Battle Pass Season 8 |
| | Master Minotaur | Epic | Outfit | Chimera Crew | Unleash your manimal instincts. | 1500 | Item Shop |
| | Match Point | Uncommon | Outfit | | Serving with skill. | 800 | Item Shop |
| | Maven | Rare | Outfit | Calculator Crew | Victory is the common denominator. | 1200 | Item Shop |
| | Maverick | Epic | Outfit | Cobra Crew | Just drive. | 1500 | Item Shop |
| | Maximilian | Rare | Outfit | Aviation Age | Pilot your way to victory. | 1200 | Item Shop |
| | Mayhem | Rare | Outfit | Wasteland Warriors | Embrace the destruction. | 1200 | Item Shop |
| | Mecha Team Leader | Epic | Outfit | Final Showdown | Some assembly required. | 1600 | Item Shop |
| | Mecha Team Shadow | Shadow Series | Outfit | Shadow Strike | Shadow assembly required. | 1500 | Item Shop, Shadow Strike Pack |
| | Meowscles | Epic | Outfit | Swole Cat | He's one swole cat. | | Battle Pass Chapter 2 Season 2 |
| | Merry Marauder | Epic | Outfit | Gingerbread | Sing a slaying song tonight. | 1500 | Item Shop |
| | Metal Mouth | Rare | Outfit | Metal Masq | What lies behind that sinister smile? | 1200 | Item Shop, Metal Masq Bundle |
| | Metal Team Leader | Rare | Outfit | Royale Hearts | Totally metal. | | Metal Team Leader Pack |
| | Mezmer | Rare | Outfit | Sun Soldiers | All eyes are on you. | 1200 | Item Shop |
| | Midas | Legendary | Outfit | Golden Ghost | All that glitters is yours. | | Battle Pass Chapter 2 Season 2 |
| | Midas Rex | | Outfit | | | | The Last Laugh Bundle |
| | Midfield Maestro | Rare | Outfit | Goalbound | Represent your country in style! | 1200 | Item Shop |
| | Midfield Monstrosity | Rare | Outfit | Dead Ball | Represent your crypt in style. | 1200 | Item Shop |
| | Midnight Dusk | Epic | Outfit | Crypt Crashers | Doomed to an eternity of vampiric style. | 2800 | Crypt Crashers Pack |
| | Midnight Ops | Rare | Outfit | Stealth Syndicate | Strike by night. | 1200 | Item Shop |
| | Mika | Rare | Outfit | | Riding into the future. | 1200 | Item Shop |
| | Mission Specialist | Epic | Outfit | Space Explorers | All systems go. | | Battle Pass Season 3 |
| | Mogul Master | Epic | Outfit | Winter Ski | Carve through the competition. | 1500 | Item Shop |
| | Moisty Merman | Legendary | Outfit | | From the depths of... the backlot of Studio B. | 2000 | Item Shop |
| | Molten Battle Hound | Lava Series | Outfit | Lava Legends | Release the molten hound! | | Lava Legends Pack |
| | Molten Omen | Lava Series | Outfit | Overseer | Your victory has been burned in fate. | | Darkfire Bundle |
| | Molten Valkyrie | Lava Series | Outfit | Lava Legends | A fiery revelation. | | Lava Legends Pack |
| | Moniker | Rare | Outfit | Sharp Style | Make a name for yourself. | 1200 | Item Shop |
| | Monks | Rare | Outfit | Sock 'Em | Send in the monkey. | 1200 | Item Shop |
| | Moonwalker | Epic | Outfit | Space Explorers | Boldly going for victory. | | Battle Pass Season 3 |
| | Morro | Epic | Outfit | Courageous Era | Warrior from a long lost world. | 1800 | Item Shop |
| | Mothmando | Epic | Outfit | Moth Command | Out of the shadows, and into the light. | 1500 | Item Shop |
| | Moxie | Rare | Outfit | TKO | Put up your dukes. | 1200 | Item Shop |
| | Mullet Marauder | Epic | Outfit | Spandex Squad | Totally. Totally radical. | 1500 | Item Shop |
| | Munitions Expert | Rare | Outfit | | Rare munitions expert outfit. | 1200 | Item Shop |
| | Munitions Major | Uncommon | Outfit | | Fire in the hole! | 800 | Item Shop |
| | Musha | Legendary | Outfit | Bushido | A fearless and noble warrior. | 2000 | Item Shop |
| | Mystify | Rare | Outfit | Cryptic | Is it a mystery or is it art? | 1200 | Item Shop |
| | Mystique | Marvel | Outfit | Mystique | Deadly assassin and undisputed master of disguise. | | Battle Pass Chapter 2 Season 4 |
| | Nara | Epic | Outfit | Storm Familiars | Messenger of the spirits. | 1500 | Item Shop |
| | Neo Versa | Epic | Outfit | Neochaser | Elite chaser for hire. | | Neo Versa Bundle |
| | Nightlife | Epic | Outfit | Party Style | The life of the afterparty. | 1500 | Item Shop |
| | Nightshade | Epic | Outfit | Pizza Pit | Protector of the sauce. | | Battle Pass Season 6 |
| | Nightsurf Bomber | Epic | Outfit | Crypt Crashers | Stick to the shade. | 2800 | Crypt Crashers Pack |
| | Nightwitch | Epic | Outfit | Moonbone | Rise with the moon. | 1500 | Item Shop |
| | Ninja | Icon Series | Outfit | Ninja | Watch and learn. | 1500 | Item Shop, Ninja Bundle |
| | Nite Gunner | Shadow Series | Outfit | Lightning & Thunderstorms | The future looks nite. | 1500 | Item Shop, Shadow Strike Pack |
| | Nite Nite | Epic | Outfit | Party Parade | Sleep tight! | 1500 | Item Shop |
| | Nitebeam | Epic | Outfit | Stormlight | Beaming with luminous energy. | 1500 | Item Shop |
| | Nitehare | Epic | Outfit | Nitehare | Hopping straight out of your nightmares. | 1500 | Item Shop |
| | Nitelite | Uncommon | Outfit | Neon Glow | Never afraid of the dark. | 800 | Item Shop |
| | Nog Ops | Uncommon | Outfit | Merry Christmas | Have yourself a merry little skirmish. | 800 | Item Shop |
| | Noir | Epic | Outfit | Hardboiled | Infiltrating the seedy underbelly of Tilted Towers. | 1500 | Item Shop |
| | Oblivion | Legendary | Outfit | Oblivion | Unending vengeance. | 2000 | Item Shop |
| | Ocean | Epic | Outfit | Ocean Rising | The fight's not over until I say so. | | Battle Pass Chapter 2 Season 3 |
| | Omega | Legendary | Outfit | Omega | There can be only one. | | Battle Pass Season 4 |
| | Omen | Legendary | Outfit | Overseer | Your victory has been foretold. | 2000 | Item Shop |
| | Onesie | Epic | Outfit | Durrr Burger | Smash that snooze button. | | Battle Pass Season 7 |
| | Oppressor | Legendary | Outfit | Domination | Out of time, and out for vengeance. | 2000 | Item Shop |
| | Oro | Legendary | Outfit | Midas' Revenge | Golden treasure, an eternal obsession. | 2000 | Item Shop |
| | Outcast | Rare | Outfit | Open Water | Reel 'em in. | 1200 | Item Shop |
| | Overtaker | Epic | Outfit | Vanishing Point | Take over the competition. | 1500 | Item Shop |
| | P-1000 | Epic | Outfit | Bunker Days | Peely powered combat banadroid. | | P-1000's Challenge Pack |
| | P.A.N.D.A Team Leader | Legendary | Outfit | | Victory now. Nap later. | 2000 | Item Shop |
| | P.K.E. Ranger | Uncommon | Outfit | Ghostbusters | Heat em' up! | 800 | Item Shop, Ghostbusters Crew |
| | Par Patroller | Uncommon | Outfit | Rough Raiders | Patience and focus wins the match. | 800 | Item Shop |
| | Paradox | Epic | Outfit | Ouroboros | Strike the impossible balance. | 1500 | Item Shop |
| | Paranormal Guide | Uncommon | Outfit | Ghostbusters | Your guide to the spirit world. | 800 | Item Shop, Ghostbusters Crew |
| | Party Diva | Epic | Outfit | Party Style | Only the best. | 1500 | Item Shop |
| | Party MVP | Epic | Outfit | Party Style | There can be only one. | 1500 | Item Shop |
| | Party Star | Epic | Outfit | Party Style | All eyes on you. | 1500 | Item Shop |
| | Party Trooper | Rare | Outfit | Skulltimate | He came to the party... like two hundred years ago. | 1200 | Item Shop |
| | Pastel | Uncommon | Outfit | Pastel Patrol | Spring into action. | 800 | Item Shop |
| | Patch | Rare | Outfit | Carving Crew | Carve out your place in the night. | | |
| | Patch Patroller | Uncommon | Outfit | Pumpkin Patch | Self-appointed Grain Guardian of the Gourd. | 800 | Item Shop |
| | Pathfinder | Uncommon | Outfit | | Uncommon pathfinder outfit. | 800 | Item Shop |
| | Payback | Rare | Outfit | RPM | It's time to strike back. | 1200 | Item Shop |
| | Peekaboo | Epic | Outfit | Party Parade | I see you! | 1500 | Item Shop |
| | Peely | Epic | Outfit | Banana Bunch | Go bananas. | | Battle Pass Season 8 |
| | Peely Bone | Epic | Outfit | Banana Bunch | He's probably going to be fine. | 1500 | Item Shop |
| | Penny | Rare | Outfit | Constructor Crew | When trouble knocks, we'll build our way out. | 1200 | Item Shop |
| | Perfect Shadow | Shadow Series | Outfit | | Become the ominous shadow. | | Shadows Rising Pack |
| | Phantom Commando | Uncommon | Outfit | Ghostbusters | We got one! | 800 | Item Shop, Ghostbusters Patrol |
| | Pillar | Rare | Outfit | Chrysalis Crew | This isn't even my final form. | 1200 | Item Shop |
| | Pinkie | Rare | Outfit | Wild Hearts | He lives to luv. | 1200 | Item Shop |
| | Pitstop | Rare | Outfit | Road Crew | Just try to keep up. | 1200 | Item Shop |
| | PJ Patroller | Uncommon | Outfit | Cozy Command | Stay warm this winter. | 800 | Item Shop |
| | PJ Pepperoni | Rare | Outfit | Pizza Pit | Cozy combat, fresh to your door. | 1200 | Item Shop |
| | Plague | Epic | Outfit | Grim Medicine | The doctor is in... | 1500 | Item Shop |
| | Plastic Patroller | Uncommon | Outfit | Toy Soldier | Toy with the competition. | 800 | Item Shop |
| | Point Patroller | Rare | Outfit | | Ready to make a break for it. | | Playstation Plus Celebration Pack 9 |
| | Poised Playmaker | Rare | Outfit | Goalbound | Represent your country in style! | 1200 | Item Shop |
| | Poison Ivy | DC Series | Outfit | | | | The Last Laugh Bundle |
| | Polar Patroller | Epic | Outfit | Bear Brigade | Don't poke the bear. | 1500 | Item Shop |
| | Polarity | Legendary | Outfit | Boundless | Follow the true star. | 1800 | Item Shop |
| | Powder | Epic | Outfit | Powder Patrol | Catch the air and kiss the sky. | | Battle Pass Season 7 |
| | Power Chord | Legendary | Outfit | Volume 11 | Bring on the noise complaints. | 2000 | Item Shop |
| | Prickly Patroller | Uncommon | Outfit | | Just a cactus being a cactus. | 800 | Item Shop |
| | Prodigy | Rare | Outfit | Calculator Crew | Never afraid to divide by zero. | | Playstation Plus Celebration Pack 4 |
| | Professor Slurpo | Slurp Series | Outfit | Blue Crew | Behold the power of slurp! | 1500 | Item Shop |
| | Psion | Rare | Outfit | Third Eye | Mind over matter. | 1200 | Item Shop |
| | Psycho Bandit | Epic | Outfit | Mayhem | Heyo! | 2000 | Item Shop, Psycho Bundle |
| | Psylocke | Marvel | Outfit | X-Force | Telekinetically enhanced master martial artist. | 1500 | Item Shop, X-Force Outfits |
| | Punk | Epic | Outfit | Carving Crew | Smashing | | |
| | Putrid Playmaker | Rare | Outfit | Dead Ball | Represent your crypt in style. | 1200 | Item Shop |
| | Quackling | Uncommon | Outfit | Quackle Team | Quack in action. | 800 | Item Shop |
| | Rabbit Raider | Epic | Outfit | Pastel Patrol | Scary cute. | 1500 | Item Shop |
| | Radiant Striker | Rare | Outfit | | Strike first. | 1200 | Item Shop |
| | Ragnarok | Legendary | Outfit | Harbinger | The cold harbinger of fate. | | Battle Pass Season 5 |
| | Ragsy | Epic | Outfit | The Leftovers | Say hello to your worst nightbear. | 1500 | Item Shop |
| | Rally Raider | Rare | Outfit | Hard Road | Live like every lap's a victory lap. | 1200 | Item Shop |
| | Ranger | Uncommon | Outfit | | Uncommon ranger outfit. | 800 | Item Shop |
| | Rapscallion | Epic | Outfit | Jailbird | Bail out of the Battle Bus. | 1500 | Item Shop |
| | Raptor | Legendary | Outfit | | Royale Air Force test pilot. | 2000 | Item Shop |
| | Ravage | Legendary | Outfit | Nevermore | Circling overhead, shrouded by night... | 2000 | Item Shop |
| | Raven | Legendary | Outfit | Nevermore | Brooding master of dark skies. | 2000 | Item Shop |
| | Ravenpool | Marvel | Outfit | Deadpool | Maximum darkness. | 1500 | Item Shop, Deadpool Mashups |
| | Ravina | Rare | Outfit | Raveyard | Bewitching spirit from a dark dimension. | | |
| | Razor | Rare | Outfit | Battle Breakers | Reclaim your kingdom, one break at a time. | 1200 | Item Shop |
| | Rebel | Epic | Outfit | Robo Rebels | Oppose the establishment. | 1500 | Item Shop |
| | Recon Expert | Rare | Outfit | | Rare recon expert outfit. | 1200 | Item Shop |
| | Recon Ranger | Uncommon | Outfit | Advanced Forces | Expert field intel ranger. | 800 | Item Shop |
| | Recon Scout | Rare | Outfit | | Rare recon scout outfit. | 1200 | Item Shop |
| | Recon Specialist | Rare | Outfit | | Rare recon specialst outfit. | 1200 | Item Shop |
| | Recruit | Common | Outfit | | | | |
| | Recruit (Banshee) | Common | Outfit | | Standard issue combatant outfit. | | |
| | Recruit (Carlos) | Common | Outfit | | Standard issue combatant outfit. | | |
| | Recruit (Emmy) | Common | Outfit | | Standard issue combatant outfit. | | |
| | Recruit (Evelynn) | Common | Outfit | | | | |
| | Recruit (Hawk) | Common | Outfit | | Standard issue combatant outfit. | | |
| | Recruit (Headhunter) | Common | Outfit | | Standard issue combatant outfit. | | |
| | Recruit (Hector) | Common | Outfit | | Standard issue combatant outfit. | | |
| | Recruit (Jonesy) | Common | Outfit | | Standard issue combatant outfit. | | |
| | Recruit (Mansu) | Common | Outfit | | Standard issue combatant outfit. | | |
| | Recruit (Ramirez) | Common | Outfit | | Standard issue combatant outfit. | | |
| | Recruit (Renegade) | Common | Outfit | | Standard issue combatant outfit. | | |
| | Recruit (Rio) | Common | Outfit | | Standard issue combatant outfit. | | |
| | Recruit (Spitfire) | Common | Outfit | | Standard issue combatant outfit. | | |
| | Recruit (Wildcat) | Common | Outfit | | Standard issue combatant outfit. | | |
| | Red Jade | Uncommon | Outfit | | Summon your fighting spirit. | 800 | Item Shop |
| | Red Knight | Legendary | Outfit | Fort Knights | The red menace of Anarchy Acres. | 2000 | Item Shop |
| | Red Strike | Epic | Outfit | Gold Mask | Often challenged, never bested. | | Red Strike Starter Pack |
| | Red-Nosed Raider | Rare | Outfit | | It's time for some reindeer games. | 1200 | Item Shop |
| | Red-Nosed Ranger | Uncommon | Outfit | | It's time for some reindeer games. | 800 | Item Shop |
| | Redline | Epic | Outfit | RPM | Revving beyond the limit. | | Battle Pass Season 5 |
| | Redux | Rare | Outfit | Revenge Redux | Revived. Rebuilt. Ready for revenge. | 1200 | Item Shop |
| | Reef Ranger | Epic | Outfit | Divemasters | Dive into the fray. | 1500 | Item Shop |
| | Reflex | Rare | Outfit | Counterattack | Quick to react, first to retaliate. | 1200 | Item Shop |
| | Relaxed Fit Jonesy | Rare | Outfit | Relaxed Fit | Victory or whatever else you've got, he's not picky. | 1200 | Item Shop |
| | Relay | Uncommon | Outfit | | Keep the line clear. | 800 | Item Shop |
| | Remedy Vs Toxin | Rare | Outfit | Bad Medicine | Take your medicine. | | Battle Pass Chapter 2 Season 1 |
| | Renegade | Uncommon | Outfit | | Uncommon renegade outfit. | 800 | Item Shop |
| | Renegade Raider | Rare | Outfit | Storm Scavenger | Rare renegade raider outfit. | 1200 | Season Shop |
| | Renegade Shadow | Epic | Outfit | Lone Shadow | Step out of the shadows and stake your claim. | 1500 | Item Shop |
| | Revolt | Epic | Outfit | Robo Rebels | Conquer the system. | 1500 | Item Shop |
| | Rex | Legendary | Outfit | Dino Guard | Hunting the competition to extinction. | 2000 | Item Shop, Rex Bundle |
| | Rey | Star Wars Series | Outfit | The New Trilogy | A scavenger, now studying the Jedi ways. | 1500 | Item Shop, Rise of Skywalker Pack |
| | Riley | Rare | Outfit | Street Spirits | The city is her playground. | 1200 | Item Shop |
| | Rio Grande | Rare | Outfit | Western Wilds | Brave the untamed wilds. | 1200 | Item Shop |
| | Riot | Rare | Outfit | Volume 11 | Defending the pre-post-punk-post-hardcore scene. | 1200 | Item Shop |
| | Rippley Vs Sludge | Slurp Series | Outfit | Slurp Squad | Drippy and dangerous. | | Battle Pass Chapter 2 Season 1 |
| | Rogue Agent | Epic | Outfit | Black Vector | Agent status: Unknown | 1500 | Rogue Agent Starter Pack, Item Shop |
| | Rogue Spider Knight | Legendary | Outfit | Arachnid | Weave a web of destruction. | | Xbox One S bundle 3 |
| | Rook | Epic | Outfit | | Promoted from desk jockey to field agent. | | Battle Pass Season 5 |
| | Rosa | Epic | Outfit | Muertos | Celebrate the unknown. | 1500 | Item Shop |
| | Rose Team Leader | Legendary | Outfit | Rose Team | Stop and smell the victory. | | Founder's Pack |
| | Rox | Legendary | Outfit | Sky Style | Keep it fresh. | | Battle Pass Season 9 |
| | Royale Bomber | Epic | Outfit | | Searching for a target-rich environment. | | Playstation 4 Fortnite Bundle |
| | Royale Knight | Rare | Outfit | Fort Knights | The dauntless champion of Tomato Town. | | Battle Pass Season 2 |
| | Ruby | Rare | Outfit | Street Stripes | Sometimes you gotta shine. | 1200 | Item Shop |
| | Ruckus | Rare | Outfit | Wasteland Warriors | Bring the bedlam. | 1200 | Item Shop |
| | Rue | Rare | Outfit | Lil' Red | Her hobbies include revenge, vengeance, and retribution. | 1200 | Item Shop |
| | Ruin | Legendary | Outfit | Ruination | All will fall. | | Discovery Challenges |
| | Rush | Epic | Outfit | Fourth Down | Just keep running. | 1500 | Item Shop |
| | Rust Lord | Epic | Outfit | Storm Scavenger | King of the scrap heap. | | Battle Pass Season 3 |
| | Rustler | Rare | Outfit | Wild Frontier | Scuff up your boots. | 1200 | Item Shop |
| | Safari | Rare | Outfit | Wildest West | Conqueror of the untamed. | 1200 | Item Shop |
| | Sagan | Uncommon | Outfit | City Center | Live the journey and lead the way. | 800 | Item Shop |
| | Samurai Scrapper | Rare | Outfit | | A true warrior can make a weapon from whatever's at hand | | Samurai Scrapper Pack |
| | Sanctum | Epic | Outfit | Nite Coven | Bestill your beating heart. | 1500 | Item Shop |
| | Sandshark Driver | Uncommon | Outfit | Tank Squadron | World class heavy tank driver. | 800 | Item Shop |
| | Sandstorm | Rare | Outfit | Immortal Sands | Timeless warrior. | 1200 | Item Shop |
| | Sash Sergeant | Rare | Outfit | | Set up camp and start a firefight. | 1200 | Item Shop |
| | Scarlet Commander | Uncommon | Outfit | Nightfire | Unknown and unforgettable. | 800 | Item Shop |
| | Scarlet Defender | Uncommon | Outfit | | Poised for victory. | 800 | Item Shop |
| | Scarlet Serpent | Rare | Outfit | Serpent Strike | Heartless combatant with a venomous soul. | 1200 | Item Shop |
| | Scimitar | Rare | Outfit | Immortal Sands | Razor sharp and battle ready. | 1200 | Item Shop |
| | Scorpion | Uncommon | Outfit | | Beware the stinger. | 800 | Item Shop |
| | Scoundrel | Epic | Outfit | Jailbird | Moisty's most wanted. | 1500 | Item Shop |
| | Scourge | Epic | Outfit | Grim Medicine | Seeking the cure. | 1500 | Item Shop |
| | Scout | Uncommon | Outfit | | Uncommon scout outfit. | 800 | Item Shop |
| | Scuba Jonesy | Epic | Outfit | Dive Crew | Jonesy of the deep! | | Battle Pass Chapter 2 Season 3 |
| | Sea Wolf | Rare | Outfit | Scallywags | Howl at the sea. | 1200 | Item Shop |
| | Seeker | Rare | Outfit | Street Serpent | Nothing's lost that can't be found. | | The Street Serpent Starter Pack |
| | Sentinel | Legendary | Outfit | Battle Dynamics | A new era rises. | | Battle Pass Season 9 |
| | Sgt. Green Clover | Uncommon | Outfit | Green Clover | Good luck out there! | 800 | Item Shop |
| | Sgt. Sigil | Uncommon | Outfit | Banner Brigade | Show off your true colors. | 800 | Item Shop |
| | Sgt. Winter | Epic | Outfit | Sgt. Winter | You don't want to be on his list. | | Battle Pass Season 7 |
| | Shade | Epic | Outfit | Cobra Crew | Stay cool. | 1500 | Item Shop |
| | Shadow Archetype | Shadow Series | Outfit | Archetype | Engineered in the shadows for combat performance. | 1500 | Item Shop, Shadow Strike Pack |
| | Shadow Ark | Shadow Series | Outfit | Eternal Struggle | Victory no matter the cost. | | Darkfire Bundle |
| | SHADOW Beach Brawler | Rare | Outfit | | It's brawl or nothing. | | |
| | Shadow Midas | Epic | Outfit | | | | |
| | Shadow Ops | Epic | Outfit | Stealth Syndicate | You didn't see a thing. | 1500 | Item Shop |
| | Shadow Skully | Shadow Series | Outfit | Skull & Bows | Eclipse the world with stylish domination. | | Shadows Rising Pack |
| | Shadowbird | Shadow Series | Outfit | Sun Soldiers | Fly in light, live in the eclipse. | | Shadows Rising Pack |
| | Shaman | Epic | Outfit | Moonbone | Embody the spirit of victory. | 1500 | Item Shop |
| | Shifu | Rare | Outfit | Wise Warrior | Master of harmonious victory. | 1200 | Item Shop |
| | Shimmer Specialist | Uncommon | Outfit | Fab Force | Show off your star moves. | 800 | Item Shop |
| | Shiver | Epic | Outfit | Ice Kingdom | Powered by cold fury. | 1500 | Item Shop |
| | Shogun | Legendary | Outfit | Shogun | Suited for the ultimate showdown. | 2000 | Item Shop |
| | Shore Leave | Rare | Outfit | | Hit the beach and make some waves. | 1200 | Item Shop |
| | Shot Caller | Rare | Outfit | Metro Squad | It's your move. Take your shot. | 1200 | Item Shop |
| | Sidewinder | Epic | Outfit | Snakepit | Coiled and ready to strike gold. | | Battle Pass Season 8 |
| | Sig | Rare | Outfit | Intercept Agent | Master intercept agent. | 1200 | Item Shop |
| | Signature Sniper | Uncommon | Outfit | Banner Brigade | Show off your true colors. | 800 | Item Shop |
| | Silver Surfer | Marvel | Outfit | Silver Surfer | Reflective rider of the cosmic currents. | 1500 | Item Shop, Silver Surfer Bundle |
| | Singularity | Legendary | Outfit | | The first and the last. | | Utopia Challenges |
| | Sinister Striker | Rare | Outfit | Dead Ball | Represent your crypt in style. | 1200 | Item Shop |
| | Siona | Epic | Outfit | Ancient Voyager | A wanderer in a lost world. | | Battle Pass Chapter 2 Season 3 |
| | Siren | Rare | Outfit | Hit Squad | Unforgettable and inescapable. | 1200 | Item Shop |
| | Sith Trooper | Star Wars Series | Outfit | The New Trilogy | Elite soldier of the First Order. | 1500 | Item Shop, Rise of Skywalker Pack |
| | Sizzle | Uncommon | Outfit | Durrr Burger | She makes this look cheesy. | 800 | Item Shop |
| | Sizzle Sgt. | Uncommon | Outfit | Durrr Burger | She's cookin' up a win. | 800 | Item Shop |
| | Sklaxis | Epic | Outfit | Bone Brigade | Sssss. | 1500 | Item Shop |
| | Skull Ranger | Rare | Outfit | Skull Squad | She's got a bone to pick. | 1200 | Item Shop |
| | Skull Squad Leader | Epic | Outfit | Skull Squad | Lead your skeleteam to victory. | | Skull Squad Pack |
| | Skull Trooper | Epic | Outfit | Skull Squad | Victory runs bone-deep. | 1500 | Item Shop |
| | Skully | Rare | Outfit | Skull & Bows | Accept nothing less then stylish domination. | 1200 | Item Shop |
| | Sky Stalker | Legendary | Outfit | Sky Stalker | Barrel Roll through the competition. | 2000 | Item Shop |
| | Skye | Epic | Outfit | Quest Friends | Find your Greatest Adventure! | | Battle Pass Chapter 2 Season 2 |
| | Sledge | Rare | Outfit | Heavy Hitter | Make an impact. | 1200 | Item Shop |
| | Sledgehammer | Epic | Outfit | Advanced Forces | Demolish the competition. | | Battle Pass Season 5 |
| | Sleuth | Epic | Outfit | Hardboiled | This detective is on the case. | 1500 | Item Shop |
| | Slingshot | Uncommon | Outfit | Racer Royale | Race to win. | 800 | Item Shop |
| | Slugger | Rare | Outfit | Three Strikes | Batter up! | 1200 | Item Shop |
| | Slumber | Epic | Outfit | Dreamy Days | It's time to say goodnight. | 1500 | Item Shop |
| | Slurp Bandolette | Slurp Series | Outfit | Slurp Legends | Slurp-fueled ambush predator of the jungle. | 2000 | Slurp Legends Pack |
| | Slurp Jonesy | Slurp Series | Outfit | Slurp Legends | Slurp up and ship out. | 2000 | Slurp Legends Pack |
| | Slurp Leviathan | Slurp Series | Outfit | Slurp Legends | Call me Slurp Fish. | 2000 | Slurp Legends Pack |
| | Slurpentine | Slurp Series | Outfit | Blue Crew | Love is power. | 1500 | Item Shop |
| | Slushy Soldier | Epic | Outfit | | Make every day a snow day. | 1500 | Item Shop |
| | Smoke Dragon | Epic | Outfit | Ancients Reborn | Shrouded in the shadows. | 1500 | Item Shop |
| | Snakepit | Uncommon | Outfit | Siege Strike | Fearless. | 800 | Item Shop |
| | Snorkel Ops | Rare | Outfit | | Diving head first into the fight. | 1200 | Item Shop |
| | Snow Patroller | Rare | Outfit | Polar Ace | No more Mr. Ice Guy. | 1200 | Item Shop |
| | Snow Sniper | Uncommon | Outfit | Permafrost | Cool and calculated. | 800 | Item Shop |
| | Snow Striker | Uncommon | Outfit | Permafrost | Cool and calculated. | 800 | Item Shop |
| | Snowfoot | Epic | Outfit | Snow Clan | Tread lightly, and never leave a trace. | 1500 | Item Shop |
| | Snowstrike | Epic | Outfit | Snow Clan | Strike swiftly, and always leave your mark. | 1500 | Item Shop |
| | Snuggs | Rare | Outfit | Royale Hearts | One broken bear. | 1200 | Item Shop |
| | Sofia | Epic | Outfit | John Wick | The assassin's assassin. | 1500 | Item Shop |
| | Sorana | Legendary | Outfit | Standout Style | She's here to crash the party. | | Alter Ego Challenges |
| | Soulless Sweeper | Rare | Outfit | Dead Ball | Represent your crypt in style. | 1200 | Item Shop |
| | Sparkle Specialist | Epic | Outfit | Fortnite Fever | It's time to shine! | | Battle Pass Season 2 |
| | Sparkle Supreme | Epic | Outfit | Fortnite Fever | The supreme queen of sparkle. | | Battle Pass Season 10 |
| | Sparkplug | Rare | Outfit | Boneyard | Scrap the competition. | 1200 | Item Shop |
| | Special Forces | Rare | Outfit | | Rare special forces outfit. | 1200 | Item Shop |
| | Specter Inspector | Uncommon | Outfit | Ghostbusters | Back off man, she's a scientist. | 800 | Item Shop, Ghostbusters Patrol |
| | Spider Knight | Legendary | Outfit | Arachnid | They'll fall into your web. | 2000 | Item Shop |
| | Spike | Epic | Outfit | Fourth Down | Throw it on the ground. | 1500 | Item Shop |
| | Spirit Sniper | Uncommon | Outfit | Ghostbusters | Take dead aim. | 800 | Item Shop, Ghostbusters Patrol |
| | Splatterella | Rare | Outfit | Llamercenary | Llamas beware. | 1200 | Item Shop |
| | Splode | Epic | Outfit | Short Fuse | Countdown to a big boom! | 1500 | Item Shop |
| | Spooky Team Leader | Epic | Outfit | | Find delight in fright. | 1500 | Item Shop |
| | Squad Leader | Epic | Outfit | Advanced Forces | First in, last out. | | Battle Pass Season 4 |
| | Stage Slayer | Epic | Outfit | Garage Band | Crank it up! | 1500 | Item Shop |
| | Stalwart Sweeper | Rare | Outfit | Goalbound | Represent your country in style! | 1200 | Item Shop |
| | Star-Lord Outfit | Marvel | Outfit | Guardians Of The Galaxy | Do something good, something bad, a bit of both! | 1500 | Item Shop |
| | Star-Spangled Ranger | Uncommon | Outfit | Stars & Stripes | Make 'em see stars. | 800 | Item Shop |
| | Star-Spangled Trooper | Uncommon | Outfit | Stars & Stripes | Salute your stripes. | 800 | Item Shop |
| | Starfish | Epic | Outfit | Fish Food | Queen of the reef. | 1500 | Item Shop |
| | Starflare | Epic | Outfit | Space Fire | The last star you'll see tonight. | 1500 | Item Shop |
| | Starlie | Rare | Outfit | | Shine bright. | 1200 | Item Shop |
| | Stealth Reflex | Rare | Outfit | Counterattack | Protect your turf. | | GeForce Bundle |
| | Steelsight | Epic | Outfit | | Victory demands nerves of steel. | 1500 | Item Shop |
| | Stella | Uncommon | Outfit | Pastel Patrol | Bound into battle with springy pastel style. | 800 | Item Shop |
| | Sterling | Epic | Outfit | 24K | Shine like a diamond. | 1500 | Item Shop |
| | Stingray | Rare | Outfit | Fathoms Deep | Beware the silent sting of doom. | 1200 | Item Shop |
| | Stoneheart | Epic | Outfit | Royale Hearts | Statuesque love warrior. | 1500 | Item Shop |
| | Storm | Marvel | Outfit | Storm | Goddess of the Elements. | | Battle Pass Chapter 2 Season 4 |
| | Storm Racer | Rare | Outfit | Road Crew | Leave the competition in your rearview. | 1200 | Item Shop |
| | Stratus | Epic | Outfit | Storm Stalker | Venture into the eye of danger. | | Battle Pass Season 9 |
| | Straw Ops | Epic | Outfit | Straw Stuffed | The harvest grows near. | 1500 | Item Shop |
| | Street Striker | Rare | Outfit | | Hustle hard and make the play. | 1200 | Item Shop |
| | Striped Soldier | Uncommon | Outfit | | Call it like you see it. | 800 | Item Shop |
| | Strong Guard | Epic | Outfit | Fourth Down | Protect the blind side. | 1500 | Item Shop |
| | Sub Commander | Epic | Outfit | | Show 'em how it's done. | | Twitch Prime Pack 1 |
| | Sugarplum | Epic | Outfit | | As sugary sweet as winter berries. | 1500 | Item Shop |
| | Summer Drift | Epic | Outfit | Drift | Drifting through the sunshine. | 1500 | Item Shop |
| | Summer Fable | Epic | Outfit | Summer Legends | The beach isn't safe... from her. | | Summer Legends Pack |
| | Summit Striker | Epic | Outfit | | Always first to the top. | | Summit Striker Starter Pack |
| | Sun Strider | Epic | Outfit | Rescue Patrol | It's all fun in the sun. | | Battle Pass Season 5 |
| | Sun Tan Specialist | Epic | Outfit | Rescue Patrol | Don't get burned. | 1500 | Item Shop |
| | Sunbird | Rare | Outfit | Sun Soldiers | Fly in light, and eclipse the sun. | 1200 | Item Shop |
| | Sunflower | Uncommon | Outfit | Fatal Fielders | Certified organic. | 800 | Item Shop |
| | Super Striker | Rare | Outfit | Goalbound | Represent your country in style! | 1200 | Item Shop |
| | Supersonic | Legendary | Outfit | Air Royale | Approaching mach speed. | 2000 | Item Shop |
| | Sureshot | Uncommon | Outfit | Bullseye | Brooding master of dark skies. | 800 | Item Shop |
| | Surf Raider | Rare | Outfit | Aqua Marine | Protect the beaches. | 1200 | Item Shop |
| | Surf Strider | Epic | Outfit | Splash Damage | Harness the power of a rogue wave. | | |
| | Surf Witch | Rare | Outfit | Demon Beach | Curse the beach with your dark presence. | 1200 | Item Shop |
| | Survival Specialist | Rare | Outfit | | Rare Survival Specialist outfit. | 1200 | Item Shop |
| | Sushi Master | Rare | Outfit | Sushi | Roll out! | 1200 | Item Shop |
| | Swamp Stalker | Uncommon | Outfit | | Master of the mire. | 800 | Item Shop |
| | Swamp Stomper | Rare | Outfit | Gator Force | Gator-trained master swampsman. | 1200 | Item Shop |
| | Swift | Rare | Outfit | Street Rat | It's gonna be his year. | 1200 | Item Shop |
| | Symbol Stalwart | Uncommon | Outfit | Banner Brigade | Show off your true colors. | 800 | Item Shop |
| | Synapse | Epic | Outfit | Synapse | Two steps of the competition. | 1500 | Item Shop |
| | Synth | Epic | Outfit | Parallel Future | Often duplicated, never defeated. | 1500 | Item Shop |
| | Synth Star | Epic | Outfit | Garage Band | Ride a new wave to victory. | 1500 | Item Shop |
| | Tactics Officer | Uncommon | Outfit | | Ready for action. | 800 | Item Shop |
| | Tailor | Epic | Outfit | Runway Raider | Stylish soldier of fortune. | 1500 | Item Shop |
| | Takara | Epic | Outfit | Takara | Agent of influence and intrigue. | 1500 | Item Shop |
| | Tango | Uncommon | Outfit | Tactical Fashions | You've got the moves. | 800 | Fortnite Celebration Cup, Item Shop |
| | Taro | Epic | Outfit | Storm Familiars | Protector of the wilds. | 1500 | Item Shop |
| | Tart Tycoon | Rare | Outfit | | "#FreeFortnite" | | #FreeFortnite Cup |
| | Tech Ops | Rare | Outfit | Tech Ops | Overtake the battlefield. | 1200 | Item Shop |
| | Teef | Epic | Outfit | Final Reckoning | Life's chewy when you're born to chomp. | 1500 | Item Shop |
| | Tek | Rare | Outfit | Artificial Evolved | Armed and dangerous. | 1200 | Item Shop |
| | Teknique | Epic | Outfit | Aerosol Assassins | Spray up a storm. | | Battle Pass Season 4 |
| | Tempest | Legendary | Outfit | Raging Storm | Consumed by the storm. Back for revenge. | 2000 | Item Shop |
| | Tender Defender | Epic | Outfit | Fowl Play | Protect your nuggets. | 1500 | Item Shop |
| | Terns | Epic | Outfit | Changing Seasons | The spirit of the forest. | | |
| | Terra | Rare | Outfit | Artificial Evolved | Enough planning, it's time for action. | 1200 | Item Shop |
| | The Ace | Epic | Outfit | Getaway Gang | Stack the deck. | | The Ace Starter Pack |
| | The Autumn Queen | Rare | Outfit | Changing Seasons | Ruler of the forest. | 1200 | Item Shop |
| | The Brat | Rare | Outfit | Missing Link | Relish the wins. | 1200 | Item Shop |
| | The Dark Knight Movie Outfit | DC Series | Outfit | Gotham City | The hero Gotham deserves. | | Batman Caped Crusader Pack |
| | The Devourer | Frozen Series | Outfit | Polar Legends | No longer trapped in his icy prison. | | Polar Legends Pack |
| | The Good Doctor | Epic | Outfit | Duplicity | He's got some inner demons. | | |
| | The Ice King | Legendary | Outfit | Ice Kingdom | All hail the ruler of ice and snow. | | Battle Pass Season 7 |
| | The Ice Queen | Legendary | Outfit | Ice Kingdom | Long live the Queen. | 2000 | Item Shop |
| | The Joker | DC Series | Outfit | | | | The Last Laugh Bundle |
| | The Mighty Volt | Legendary | Outfit | Boundless | High-voltage and ready to roll. | 1800 | Item Shop |
| | The Paradigm | Rare | Outfit | The Seven | Her allegiance is unknown. | 1200 | Item Shop |
| | The Prisoner | Legendary | Outfit | | Unchained, and out to restore balance. | | Snowfall Challenges |
| | The Reaper | Legendary | Outfit | Hired Gun | Vengeance for Hire. | | Battle Pass Season 3 |
| | The Scientist | Legendary | Outfit | The Seven | His mission is unknown. | | A Meteoric Rise |
| | The Visitor | Legendary | Outfit | The Seven | Intentions unknown. | | Battle Pass Season 4, Blockbuster Challenges |
| | Thor | Marvel | Outfit | Thor | Son of Odin. God of Thunder. | | Battle Pass Chapter 2 Season 4 |
| | Tigeress | Rare | Outfit | Ancients Reborn | On the prowl with ancestral style. | 1200 | Item Shop |
| | Tilted Teknique | Epic | Outfit | Aerosol Assassins | Tag, you're it. | | Battle Pass Season 10 |
| | Tinseltoes | Uncommon | Outfit | | Keep the competition on their toes. | 800 | Item Shop |
| | TNTina | Epic | Outfit | Short Fuse | Light the fuse and run the world. | | Battle Pass Chapter 2 Season 2 |
| | Tomatohead | Epic | Outfit | Pizza Pit | Extra saucey. | 1500 | Item Shop |
| | Tony Stark | Marvel | Outfit | Iron Man | Billionare. Playboy. Philanthropist. Inventor. | | Battle Pass Chapter 2 Season 4 |
| | Tower Recon Specialist | Uncommon | Outfit | | Master of the mean streets. | 800 | Item Shop |
| | Toxic Tagger | Rare | Outfit | | The world is your canvas, leave your mark. | 1200 | Item Shop |
| | Toxic Trooper | Epic | Outfit | Outbreak | Dominate the hot zone. | 1500 | Item Shop |
| | Toy Trooper | Uncommon | Outfit | Toy Soldier | Molded for victory. | 800 | Item Shop |
| | Tracker | Uncommon | Outfit | | Uncommon tracker outfit. | 800 | Item Shop |
| | Trailblazer | Epic | Outfit | Advanced Forces | On the forefront of victory. | | Twitch Prime Pack 2 |
| | Travis Scott | Icon Series | Outfit | Travis Scott | La Flame | 1500 | Item Shop, Astronomical Bundle |
| | Trench Raider | Rare | Outfit | Fathoms Deep | Under the waves and out for vengeance. | 1200 | Item Shop |
| | Trench Trawler | Rare | Outfit | Watery Grave | Strange secrets sleep deep beneath the waves. | 1200 | Item Shop |
| | Triage Trooper | Epic | Outfit | Support Squadron | No one is beyond saving. | 1500 | Item Shop |
| | Tricera Ops | Legendary | Outfit | Dino Guard | Sink your teeth into victory. | 2000 | Item Shop |
| | Triggerfish | Rare | Outfit | Fish Food | Stick it to 'em. | 1200 | Item Shop |
| | Trilogy | Rare | Outfit | | The bold future of battle begins now. | 0 | Playstation Plus Celebration Pack 8 |
| | Triple Threat | Rare | Outfit | Half Court | It's all about the fundamentals. | 1200 | Item Shop |
| | Trog | Epic | Outfit | Mountain Myths | Trog fight good! | | Battle Pass Season 7 |
| | Trooper | Uncommon | Outfit | | Uncommon trooper outfit. | 800 | Item Shop |
| | Tropical Punch Zoey | Epic | Outfit | Summer Legends | Candy-coated mayhem. | | Summer Legends Pack |
| | Tsuki | Rare | Outfit | Kata Tech | Unpredictable and unforgiving. | 1200 | Item Shop |
| | Turk Vs Riptide | Rare | Outfit | Open Water | Hook your prey. | | Battle Pass Chapter 2 Season 1 |
| | Twistie | Rare | Outfit | Hot Air | Partially inflated, and ready to flop to the top. | 1200 | Item Shop |
| | Ultima Knight | Legendary | Outfit | Fort Knights | Get the last word. | | Battle Pass Season 10 |
| | Unpeely | Epic | Outfit | Summer Legends | No peel, no shoes, no problem. | | Summer Legends Pack |
| | Valkyrie | Legendary | Outfit | Harbinger | A chilling revelation. | 2000 | Item Shop, Harbinger Bundle |
| | Valor | Legendary | Outfit | Valiant | A beacon for hope. | | Battle Pass Season 4 |
| | Vector | Rare | Outfit | Total Control | Control the variables, control the battle. | 1200 | Item Shop |
| | Vega | Epic | Outfit | Bounty Hunter | A lone force of vengeance. | | Battle Pass Season 9 |
| | Velocity | Legendary | Outfit | | Royale Air Force flying ace. | 2000 | Item Shop |
| | Vendetta | Legendary | Outfit | Suit Up | Upgrade and override. | | Battle Pass Season 9 |
| | Ventura | Epic | Outfit | Venture | Destined for greatness. | 1500 | Item Shop |
| | Venturion | Epic | Outfit | Venture | Adventure awaits! | 1500 | Item Shop |
| | Verge | Uncommon | Outfit | Modern Mercenary | Always on the forefront. | 800 | Item Shop |
| | Versa | Epic | Outfit | Neochaser | Mastermind for hire. | 1500 | Item Shop |
| | Vertex | Legendary | Outfit | Apex Protocol | From beyond the point of no return. | 2000 | Item Shop, Vertex Bundle |
| | Vice | Uncommon | Outfit | Siege Strike | Wild. | 800 | Item Shop |
| | Victoria Saint | Rare | Outfit | Night Hunter | Vampire-hunter of the Old West. | 1200 | Item Shop |
| | Violet | Epic | Outfit | Ultimate Reckoning | Embrace the dark. | 2000 | Ultimate Reckoning Pack |
| | Vix | Epic | Outfit | Catssassin | A true catssassin always lands on her feet. | 1500 | Item Shop |
| | Volley Girl | Rare | Outfit | | If you get served, it's not her fault. | 1200 | Item Shop |
| | Vulture | Epic | Outfit | Air Strike | Loom over the competition. | 1500 | Item Shop |
| | Wake Rider | Rare | Outfit | Aqua Marine | Conquer the coast. | | |
| | Wanderlust | Legendary | Outfit | Boundless | Unpredictably uncontainable. | 1800 | Item Shop |
| | Warpaint | Legendary | Outfit | Warpaint | Dress for the job you want. | | Founder's Pack |
| | Wavebreaker | Rare | Outfit | Open Water | Go against the tide. | | Wavebreaker Starter Pack |
| | Waveripper | Rare | Outfit | Saltwater Strike | Deadliest catch this side of the coral reef. | 1200 | Item Shop |
| | Waypoint | Rare | Outfit | Waypoint | Make your move. | 1200 | Item Shop |
| | Whiplash | Uncommon | Outfit | Racer Royale | Brake for no one. | 800 | Item Shop |
| | Whistle Warrior | Uncommon | Outfit | | Throw a flag on the play. | 800 | Item Shop |
| | Whiteout | Epic | Outfit | Vanishing Point | Break away from the pack. | 1500 | Item Shop |
| | Wild Card | Legendary | Outfit | Getaway Gang | Pick a card, any card. | 2000 | Item Shop |
| | Wild Gunner | Uncommon | Outfit | | Embrace your wild side. | 800 | Item Shop |
| | Wildcat | Epic | Outfit | Fleet Force | Victory without taking a scratch. | | Wildcat Nintendo Switch Bundle |
| | Wilde | Epic | Outfit | White Tiger | More than a little wild. | | Wilde Starter Pack |
| | Willow | Epic | Outfit | Final Reckoning | A wandering spirit with unfinished business. | | The Final Reckoning Pack |
| | Wingman | Epic | Outfit | | Flying under the radar. | | Wingman Starter Pack |
| | Wingtip | Rare | Outfit | Aviation Age | Flying on the edge. | 1200 | Item Shop |
| | Wiretap | Rare | Outfit | Spycraft | Never tap out. | 1200 | Item Shop |
| | Wolf | Rare | Outfit | Hit Squad | He's the one you call when all hope is lost. | 1200 | Item Shop |
| | Wolverine | Marvel | Outfit | Wolverine | He's the best there is at what he does. | | Wolverine Challenges |
| | Wonder | Epic | Outfit | | Inspire wonder. | | HONOR 20 Series device |
| | Wooly Warrior | Rare | Outfit | | Ready for a comeback. | | Winterfest |
| | World Warrior | Uncommon | Outfit | World Cup 2019 | Take home the prize. | 800 | Item Shop |
| | Wrangler | Rare | Outfit | Wild Frontier | Round 'em up, and get movin'. | 1200 | Item Shop |
| | Wrath | Rare | Outfit | Cryptic Curse | Warden of the underworld. | 1600 | Item Shop, Cryptic Curse Bundle |
| | Wreck Raider | Epic | Outfit | Divemasters | Wreck to riches. | 1500 | Item Shop |
| | Wukong | Legendary | Outfit | Wukong | Long live the king! | 2000 | Item Shop, Wukong Bundle |
| | X-Lord | Epic | Outfit | Storm Scavenger | Ransack every dimension. | | Battle Pass Season 10 |
| | Y0ND3R | Epic | Outfit | Twin Turntables | Party like there's no tomorrow. | | Battle Pass Season 10 |
| | Yee-Haw! | Epic | Outfit | Llama Rodeo | Giddy-up! | 1500 | Item Shop |
| | Yellowjacket | Rare | Outfit | Team Toxic | Venomous and victorious. | | Yellowjacket Starter Pack |
| | Yule Trooper | Epic | Outfit | Skull Squad | The holiday spirit is in your bones. | 1500 | Item Shop |
| | Yuletide Ranger | Uncommon | Outfit | Merry Christmas | Up on the rooftop... | 800 | Item Shop |
| | Zadie | Rare | Outfit | Metal Masq | She's got her eyes on you. | 1200 | Item Shop, Metal Masq Bundle |
| | Zenith | Legendary | Outfit | Zenith | Peak performance at any elevation. | | Battle Pass Season 7 |
| | Zero | Legendary | Outfit | Zero Point | Everything and nothing. | 2000 | Item Shop |
| | Zina | Rare | Outfit | Pineapple Bandit | The pineapple bandit strikes again! | 1200 | Item Shop |
| | Zoey | Epic | Outfit | Sweet Tooth | Candy-coated chaos. | | Battle Pass Season 4 |
| | Zorgoton | Rare | Outfit | UFO | Freed from the lab, and out for justice. | 1200 | Item Shop, Traveler Bundle |
| | Zorii Bliss | Star Wars Series | Outfit | The New Trilogy | A scoundrel unable to remain neutral in the war between the First Order and the Resistance. | 1500 | Item Shop |
Outfits
Season 1 Chapter 2 Battle Pass