Nineteen Eighty-Fortnite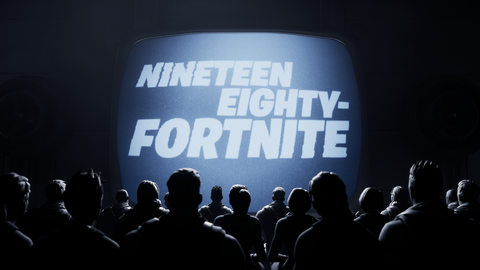 Nineteen Eighty-Fortnite is a short animation released via Party Royale on August 13th, 2020 in response to Apple's removal of Fortnite from the App Store.
The Animation (for a better quality go to the Original Video, or activate Full-Screen Ninteeen Eighty-Fortnite) :
| | | |
| --- | --- | --- |
| " | Tart Tycoon | " |
| | — "Today we celebrate the anniversary of the platform unification directives. For years they have given us their songs, their labour, their dreams. In exchange we have taken our tribute, our profits, our control. This power is ours and ours alone. We shall prevail- " | |
| | | |
| --- | --- | --- |
| " | Epic Games | " |
| | — Epic Games has defied the App Store Monopoly. In retaliation, Apple is blocking Fortnite from a billion devices. Join the fight to stop 2020 from becoming "1984" | |
Since as early as 2017, Epic Games' co-founder and CEO Tim Sweeney had questioned the need for digital storefronts like Valve's Steam, Apple's iOS App Store, and Google Play, to take a 30% revenue sharing cut, and argued that when accounting for current rates of content distribution and other factors needed, a revenue cut of 8% should be sufficient to run any digital storefront profitably. While a 30% revenue cut was an industry standard across computers, consoles, and mobile platforms in 2019, Sweeney stated that higher revenue shares made sense on consoles where "there's enormous investment in hardware, often sold below cost, and marketing campaigns in broad partnership with publishers", but did not expend to open platforms like mobile devices and personal computers. Part of the reasoning for creating the Epic Games Store was to demonstrate that Epic could operate at a lower revenue cut (12%).
As Fortnite expanded from personal computers to other platforms with the popularity of the Battle Royale mode in 2018, Epic Games sought to bring the free-to-play game to mobile devices. When Epic first released its Android client, it offered it as a sideloaded package rather than as a Google Play store app, as they did not want Google to take any revenue from the microtransactions in the game. However, this resulted in a number of security concerns and numerous unscrupulous clones attempting to pass themselves off as the real Fortnite game in the Google Play store, and by April 2020, Epic discontinued the sideloaded version and placed the game on the Google Play store. As Apple does not allow sideloading on iOS devices, Epic had just released the client on the App Store directly in 2018.
In mid-2020, Sweeney reiterated his stance on the 30% revenue cut that Apple and Google took, ahead of a large United States Congressional hearing investigating antitrust charges on the Big Tech companies including Google, and during similar investigations of Apple in the European Union. Sweeney said in a July CNBC interview that "Apple has locked down and crippled the ecosystem by inventing an absolute monopoly on the distribution of software, on the monetization of software", and "Google essentially intentionally stifles competing stores by having user interface barriers and obstruction". Sweeney further stated that "If every developer could accept their own payments and avoid the 30% tax by Apple and Google we could pass the savings along to all our consumers and players would get a better deal on items. And you'd have economic competition." After Apple stated that cloud gaming services like Microsoft's xCloud were not allowed on the iOS platform as they would allow content that bypassed Apple's content review, Sweeney wrote "Apple has outlawed the metaverse. The principle they state, taken literally, would rule out all cross-platform ecosystems and games with user created modes: not just xCloud, Stadia, and GeForce NOW, but also Fortnite, Minecraft, and Roblox."
13th August, 2020: Epic Games released a new payment system on iOS and Android devices that gave users the option to bypass the App Store/Google Play Store and pay Epic Games directly in exchange for a 20% discount on the purchase.
Bypassing the App Store for payments for digital goods/services is a violation of Apple's rules, so Fortnite was removed from the App Store shortly after the feature went live.
Epic Games then announced they would premiere an animation called "Nineteen Eighty-Fortnite" on the Big Screen in Party Royale at 4:00PM ET.
Epic Games also filed a lawsuit against Apple, alleging their 30% transaction fee on all purchases made through the App Store and exclusive control of apps released for iOS were illegally anti-competitive.
Ninteen Eighty-Fortnite debuted in Party Royale as scheduled and was uploaded to the Fortnite Youtube Channel and streamed on Twitter, with Epic Games encouraging the use of the hashtag #FreeFortnite to spread awareness and pressure Apple to reverse its decision to remove Fortnite from the App Store.
Google removed Fortnite from the Google Play Store later that day, and Epic filed a similar lawsuit in response.
18th August 2020: Epic Games announced that Apple will terminate all developer accounts on the App Store and cut off Epic Games entirely on August 28th. Epic Games simultaneously announced they had filed an injunction to prevent this.
25th August 2020: A judge ruled that Apple cannot block Unreal Engine on iOS but denied Epic Games request to reinstate Fortnite on iOS.
26th August 2020: players on iOS has suddenly got an update in-game. See the tweet here
28th August 2020: Apple will block every developer tools Epic Games has including Unreal Engine, Fortnite, their account on the store and more.
4th September 2020: Epic Games asked the Court to stop Apple from retaliating against Epic Games for daring to challenge Apple's misconduct while the antitrust case proceeds.
9th September 2020: Fortnite announced that Apple is forcing Epic Games to shut off the "Apple Sign-In" on September 11th.

For more info if you are worried about the "Apple Sign-In" shutting off, and not be able to log in with E-Mail & Password, see this blog post by Epic.

18th September 2020, Epic Games announced that Apple is preventing Epic Games developing Save the World meaning that beginning 23rd September 2020, Save the World will no longer be playable on Mac.
The first hearing is planned for the 28th September 2020
Apple and Google
Apple and Google assert that their control over app distribution on their respective platforms is essential to the security and trust in those platforms, that the large platforms they provide are beneficial to connecting users and developers, and that the transaction fees they charge are the standard amongst major digital storefronts.
"Today, Epic Games took the unfortunate step of violating the App Store guidelines that are applied equally to every developer and designed to keep the store safe for our users. As a result their Fortnite app has been removed from the store. Epic enabled a feature in its app which was not reviewed or approved by Apple, and they did so with the express intent of violating the App Store guidelines regarding in-app payments that apply to every developer who sells digital goods or services.
Epic has had apps on the App Store for a decade, and have benefited from the App Store ecosystem - including its tools, testing, and distribution that Apple provides to all developers. Epic agreed to the App Store terms and guidelines freely and we're glad they've built such a successful business on the App Store. The fact that their business interests now lead them to push for a special arrangement does not change the fact that these guidelines create a level playing field for all developers and make the store safe for all users. We will make every effort to work with Epic to resolve these violations so they can return Fortnite to the App Store."
"For game developers who choose to use the Play Store, we have consistent policies that are fair to developers and keep the store safe for users. While Fortnite remains available on Android, we can no longer make it available on Play because it violates our policies. However, we welcome the opportunity to continue our discussions with Epic and bring Fortnite back to Google Play."
Epic Games
Apple and Google's 30% tax rate hurt developers, publishers and consumers.
Apple and Google's policies break the United States antitrust law
Apple usually refuse to allow outside payment methods on iOS.
Apple's statement "The App Store guidelines that are applied equally to every developer" is false.

Apple doesn't apply the 30% tax to the apps Disney+, Amazon, Uber, Stan and Netflix as examples.
These apps are also allowed to have outside payment methods while Google Stadia, xCloud and Fortnite are not.

Apple violates their own App Store policy by allowing Disney+, Amazon, Uber, Stan and Netflix to have outside payment methods while not allowing Fortnite, Google Stadia and xCloud to have outside payment methods.
Apple violated their own statement "We will make every effort to work with Epic to resolve these violations so they can return Fortnite to the App Store" when they blocked Epic Games from the App Store.
Apple silences anyone who doesn't abide by their policies, Examples include:

Removing Fortnite on iOS, Blocking Epic Games entirely from iOS, attempting to block all Epic Games products on iOS and stopping Epic Games ability to update Save the World on Mac.

Google refuse to competing app stores on Android unless its made by a phone manufacturer like Samsung.
Google stopped Epic Games and Oneplus making a deal to create a 'Epic Games Store' on Android.
This animation is a parody of Apple's famous "1984" advertisement for the release of the original Macintosh.
The name is a pun, mixing 1984 & Fortnite, making Ninteen Eighty-Fo(u)rtnite.
Epic Games CEO Tim Sweeny has been tweeting about Apple's anti-competitive business practices before Apple pulled Fortnite from the App Store.
The Epic Games Store has a tax rate of 12% compared to Google and Apple's 30%.
Epic Games is being backed by Facebook, Match Group, Digital Context Next, Spotify and Microsoft.