Mowdown (POI)
This map/grid location appeared until Chapter 2 Season 4 and has since been updated.
Some sublocations, points and mapping might have been removed or changed. Please see Upstate New York (POI) for the latest information about the map.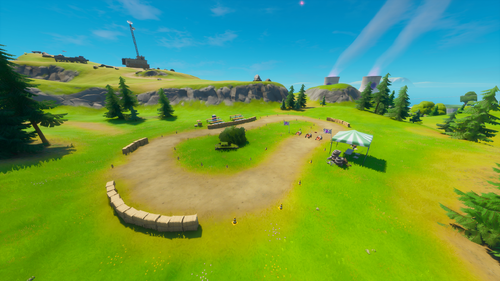 Mowdown is a Landmark in Battle Royale added in Chapter 2 Season 1, located inside the coordinate F2, north of Frenzy Farm and east of Craggy Cliffs. It is a small race track in the shape of an oval, with small, unusable lawnmower racers.
Mowdown (POI) Top View
* Click on the map to view geographic sub-locations.
Mowdown was added to the map.
A Ghost file has appeared on one of the bleachers at Mowdown.
Mowdown has been added back.
IO Guards spawn here.