Mansion (POI)
This map/grid location appeared until Chapter 2 Season 1 and has since been updated.
Some sublocations, points and mapping might have been removed or changed. Please see Dirty Docks for the latest information about the map.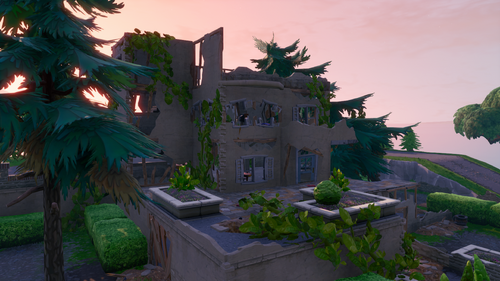 Mansion was an Unnamed Landmark in Battle Royale added in Season 4, located inside the coordinate J5 and J6, between Lonely Lodge and Race Track. It was the "superhero" base. When it was first implemented, the mansion was in good condition, however in the following seasons the Mansion began to deteriorate before falling apart completely. The Mansion had multiple rooms, an underground control center, and a cliff overlooking the ocean. The Mansion can be found in Creative, before and after deteriorating.
Mansion (POI) Top View
* Click on the map to view geographic sub-locations.
The Mansion was added to the map.
The Mansion becomes abandoned and starts to decay.
October 24th: A small, floating cube can be found underneath a chair.
November 6th: The cube is no longer floating.
An X-4 Stormwing has appeared in the secret hangar. Most of the old basement was replaced with two dancefloors and a scoreboard.
December 25th: The Mansion was covered in snow for Christmas Day.
December 26th: The snow disappeared.
January 19th: The Mansion was covered in snow in the aftermath of the Ice Storm Event.
January 31st: The snow melted from The Mansion.
The Mansion becomes even more damaged as a tree falls on it. The dancefloors in the basement are now gone.
The X-4 Stormwing has been removed, due to them being vaulted.
October 13th: The Mansion, like the rest of the map was sucked into a Black Hole.