Hydro 16 (POI)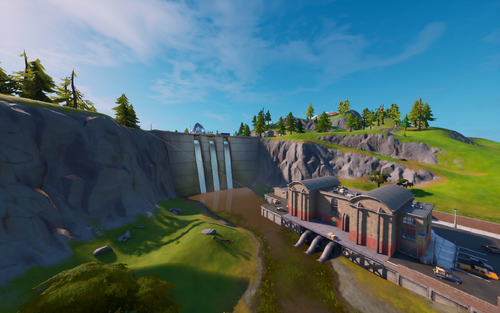 Hydro 16 is a Landmark in Battle Royale added in Chapter 2 Season 1, located inside the coordinates D7, E7 and E6, east of Slurpy Swamp and northwest of Misty Meadows. It is a power plant that feeds water from the river down into Slurpy Swamp. One of the most notable features is a large hydro dam with a road on it. The location also has a large power building as well as two smaller buildings on top of the dam, one of which appears to be converted into a museum.
Hydro 16 (POI) Top View
* Click on the map to view geographic sub-locations.
Main building
Gate
Dam
Two smaller buildings on top of Dam
Hydro 16 was added to the map.
Unknown Date: Four large windows have been added to the front of the main building.
February 16th: A shrine has appeared in Hydro 16 and it features candles, a golden toilet, a gnome and a plinth.
Several Ghost recruitment posters have appeared around Hydro 16.
Hydro 16 has been flooded and the plant is now inaccessible. Most of the dam has been submerged underwater, and only the top part with the road is accessible. The buildings on top of the dam have not been flooded. A whirlpool has also appeared in the area.
August 1st: The entirety of the water in the area has receded and Hydro 16 is back to its original state.
The Shadow and Ghost Henchman have visited Hydro 16.
Ruckus can be found here as a boss.
December 19th: A beam from The Zero Point is pointing south of Hydro 16 near the gas station.
A portal leading to an area in space has opened south of Hydro 16 near the gas station, however cannot be entered. This is likely a teaser for the upcoming Marvel skins; Black Panther, Captain Marvel, and Task Master.