Homely Hills (POI)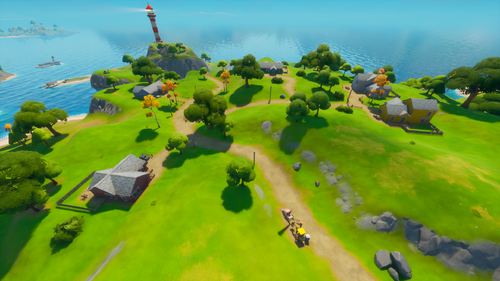 Homely Hills was a Landmark in Battle Royale added in Chapter 2 Season 1, located inside the coordinates C1, C2, D1 and D2. It was a small group of 5 houses located north of Pleasant Park and east of Craggy Cliffs. It was one of the biggest Landmarks on The Apollo Island. It also had
10 Chests.
Homely Hills (POI) Top View
* Click on the map to view geographic sub-locations.
Aqua house
Blue house
White house
Yellow house
Red house
Broken telephone pole
Homely Hills was added to the map.
October 29th: Halloween decorations have been added to Homely Hills for the Fortnitemares event, and furniture has become haunted and begun to float.
November 5th: The Halloween decorations have been removed from Homely Hills, and furniture is no longer haunted.
Mailboxes around the map have been vanishing, appearing in a Yellow House at Homely Hills.
The surroundings of Homely Hills were flooded, leaving it to be one of the few locations which didn't flood.
August 29th: A new piece of land has suddenly appeared onto the island, north of Homely Hills, holding a Trask Transport Truck. A few Rifts appeared around the landmark.
This location may be a reference to Starry Suburbs, as both were locations containing 5 houses and are both north of Pleasant Park, and had similar house and window design.
After Stealthy Stronghold crushed most of the houses, the blue house (the one that is still there) has some windows boarded up and all the furtniture is overturned (probably of the amount of force that Stealthy Stronghold brought when it was placed).