Ghost House (POI)
Ghost House is a Landmark in Battle Royale added in Chapter 2 Season 2, located inside the coordinate D5, east of Weeping Woods. It is a building constructed by Ghost. The building contains cameras, regular household items, and, interestingly, a booby trapped chest that when searched drops a player into a room with three turrets. The building might be some kind of training center for Ghost recruits, as school desks and chairs can be found both inside and outside the building.
Ghost House (POI) Top View
* Click on the map to view geographic sub-locations.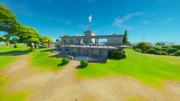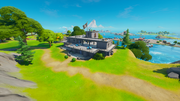 Ghost House was added to the map.
TV's along with multiple desks have appeared around the Ghost House, most likely meant to train new Ghost recruits.
A new "Join Ghost" poster has appeared on a wall on the ghost house. It now features Midas in his ghost style on it.
Ghost House has been looted and taken over by SHADOW.
The ghost desk in the front door has been taken away and replaced with a shadow desk.
Ghost House is now being packed in boxes.
An Avengers Park appeared near Ghost House
An evil gnome was added to the basement in Ghost House.
Ghost House could be a small joke, considering that no henchmen or bots are inside the Ghost House.
For some reason, multiple port-a-potties are on the side of the Ghost House. They are all secret passages that simply lead to each other, and nowhere else, likely for training recruits about secret passageways.

A.L.T.E.R.


Former Members


Locations


Weapons


Former Weapons


E.G.O.


Possible Members


Former Members


Locations


Weapons


Former Weapons