Frosty Flights
This map/grid location appeared until Chapter 2 Season 1 and has since been updated.
Some sublocations, points and mapping might have been removed or changed. Please see The Fortilla for the latest information about the map.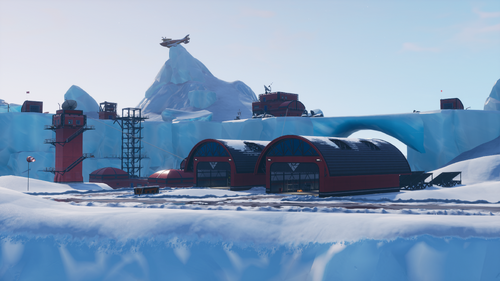 Frosty Flights was a named Point Of Interest in Battle Royale added in Season 7, located inside the coordinates A8 and B8, west from Polar Peak and very far northwest of Happy Hamlet. It was a large military airbase with hangers with X-4 Stormwings and a runway to take off from. There were two hangars right next to each other. There was a control tower looking over the whole location. Little campsites appeared around this location as well as around the map. All the buildings in this location are red and some of them have the Expedition logo. X-4 Stormwings were commonly found here. Frosty had
24 Chests total.
The only thing remaining of Frosty Flights are Creative prefabs.
Frosty Flights Top View
* Click on the map to view geographic sub-locations.
For more details on houses and buildings, visit Frosty Flights/Buildings
Hangars
Control tower
Central facility
Solar Panels
Windsock
Airplane signs
Red Tank
Frosty Flights was added to the map.
The X-4 Stormwings are gone due to them being vaulted.
BalIers can now be found at Frosty Flights.
A few solar panels have been added near Frosty Flights.
Ballers are now gone from Frosty Flights due to them being vaulted.
There is now a disco floor in one of the plane hangers.
October 13th: Frosty Flights has been sucked into a black hole.