Flopper Farm (POI)
This map/grid location appeared until Chapter 2 Season 4 and has since been updated.
Some sublocations, points and mapping might have been removed or changed. Please see Steamy Stacks for the latest information about the map.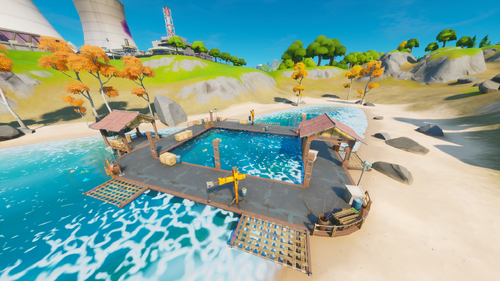 Flopper Farm was a Landmark in Battle Royale added in Chapter 2 Season 3, located inside the coordinate G2, west of Steamy Stacks and east of FN Radio. It was a farm as the POI's name shows, a Flopper farm. The location has 2 Chests and a lot of fishing spots around and in the location itself.
Flopper Farm (POI) Top View
* Click on the map to view geographic sub-locations.
July 30th: The water has receded and Flopper Farm was added on the map.
Chapter 2 Season 4 Flopper Farm Vanished
This Landmark was randomly added onto the map, it is possibly because of the upcoming Flopper variants that were datamined in the files.