FN Radio (POI)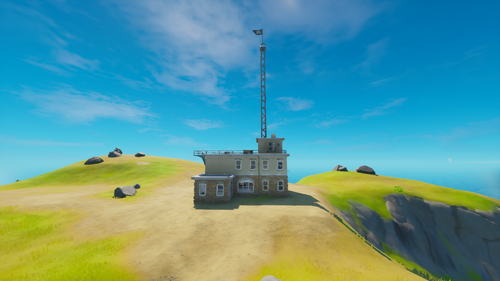 FN Radio is a Landmark in Battle Royale added in Chapter 2 Season 1, located inside the coordinate F2, northwest of Steamy Stacks and east of Craggy Cliffs. It is a radio station with a broadcasting tower on a high mountain.
FN Radio (POI) Top View
* Click on the map to view geographic sub-locations.
FN Radio was added to the map.
December 12th: Snow was added to the area.
January 15th: Part of FN Radio was put under construction for it to be expanded.
Spy organization Shadow has taken over the radio house and finished the construction. The newly constructed building goes by the name of Shadow Safe House - Charlie.
A helipad has been built near FN Radio.
A Choppa been added to FN Radio.
FN Radio has nearly been destroyed by the appearance of the Upstate New York land.

A.L.T.E.R.


Former Members


Locations

None

Weapons


Former Weapons