Eye Land (POI)
This map/grid location appeared until Chapter 2 Season 2 and has since been updated.
Some sublocations, points and mapping might have been removed or changed. Please see The Ruins for the latest information about the map.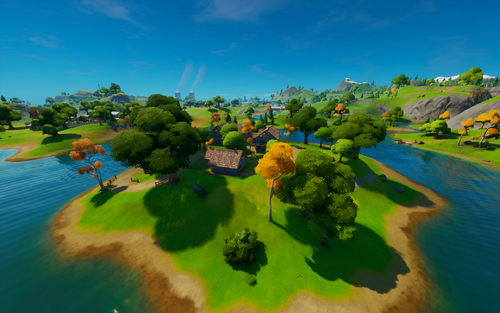 Eye Land (Formerly The Isle Of The Storm) was a Landmark in Battle Royale added in Chapter 2 Season 1, located inside the coordinate D4, E4 and E5. It was a small island in the middle of the main island, which was home to a large house, and a few wooden docks with Motorboats and Fishing Rods.
On Patch 11.10, Eye Land was turned into Isle of The Storm, a Corrupted Area (and a new landmark). The corrupted area destroyed all of the buildings, and added Cube Fragments, Cube Monsters, and glowing vents that have a similar effect to Shockwave Grenades, and launch a player in whatever direction they are facing. Unlike the zones of Season 6, However, it does not have any Shadow Stones. This is the battleground for the Storm King Boss Fight in his LTM in Battle Royale.
On Patch 11.11, the Eye Land was added back to the map.
The location was removed with Chapter 2 Season 2, having being replaced by The Agency.
Eye Land (POI) Top View
* Click on the map to view geographic sub-locations.
Conjoined large cabins
Small cabin
Eye Land was added to the map.
November 13th: Eye Land was added back to the map, replacing Isle Of The Storm again.
February 16th: The furniture in the Eye Land is slowly turning into gold.
Eye Land was replaced by The Agency due to the Shadow vs Ghost theme of the season.
Eye Land was the first location to be removed and added back in Chapter 2.
Eye Land only survived for less than a season on the Chapter 2 map.
Eye Land is the first location to be removed twice in Chapter 2.
The shape of Eye Land is similar of the original Chapter 1 Map.