E.G.O. Barracks (POI)
This map/grid location appeared until Chapter 2 Season 2 and has since been updated.
Some sublocations, points and mapping might have been removed or changed. Please see Ghost for the latest information about the map.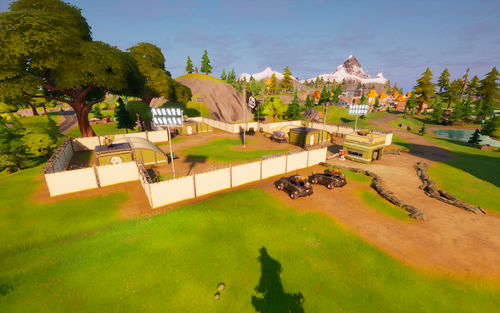 E.G.O. Barracks was a Landmark in Battle Royale added in Chapter 2 Season 1, located inside the coordinate F5, north of Lazy Lake. It was one of 5 E.G.O. outposts on the map, and this one contained the barracks. There were 3 main buildings, each one holding a chest. The building at the main gate usually houses a chest as well.
This location, along with all the E.G.O. locations, was removed with the release of Chapter 2 Season 2.
E.G.O. Barracks (POI) Top View
* Click on the map to view geographic sub-locations.
E.G.O. Barracks was added to the Battle Royale map.
E.G.O. Barracks was removed.
The remains of the E.G.O. Barracks were removed.

E.G.O.


Possible Members


Former Members


Locations


Weapons