Destroyed Stadium (POI)
This map location is inside the combination of coordinates: C5.
Sublocation, points and chest placements that can be found outside Destroyed Stadium (POI) might be listed under the grid coordinates of the area.
The Destroyed Stadium (Formerly Stadium) was an Unnamed Landmark in Battle Royale added in Season X/10, located inside the coordinate C5, west of Gotham City, east of Snobby Shores, and north of Greasy Grove. It was a small crater in the ground that had a few objects and chests in it, as well as a Vending Machine. Glitched Consumables can be found exclusively in this POI. The Crater was added in the 10.10 Content Update, as a result of the rift beacon at the Stadium exploding.
Destroyed Stadium (POI) Top View
* Click on the map to view geographic sub-locations.
Buried Chest
Buried vending machine
West island side
East island site
Main crater for consumables
Under Construction shack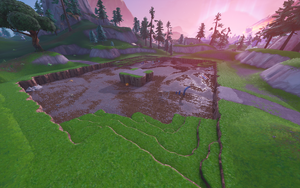 Destroyed Stadium was added to the map, replacing the Stadium.
A shack is being constructed at the Destroyed Stadium.
October 13: The Destroyed Stadium was sucked into a black hole with the rest of the map.
This was the only place on the map that has Consumables that change in any particular time.
There were Shadow Cubes here before, but because of a glitch it got removed, it wasn't added back. This was likely because Epic decided Shadow Stones were more trouble than they were worth. (Remember back to Season 6. They were disabled many times due to major glitches, and for a large percentage of the time in the season they were disabled.)
Battle Royale Geography
Chapter 2 Named Locations
 

Grid Coordinates

North West
North
North East
West
Central
East
South West
South
South East
Chapter 1 Named Locations