Crash Site (POI)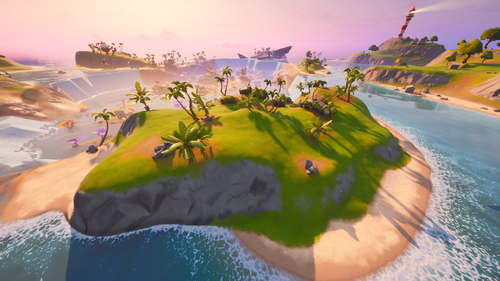 Crash Site is a Landmark in Battle Royale added in Chapter 2 Season 1, located inside the coordinates B2 and C2, and is next to Coral Castle. Other than the crash site and natural features, the island was empty. It is a small island with a large, green, crashed E.G.O. cargo plane, possibly based on a hybrid of an L-100 Hercules and a C-141 Starlifter. The plane has been split into many pieces on impact, with considerable damage to the ground below. The only remaining cargo were some black crates, long green containers, a dartboard, oxygen tanks, a net, some servers, monitor screens, chairs and wall lockers. Whatever valuable items the Crash Site held were likely either destroyed or salvaged by the E.G.O. and taken to a nearby outpost.
In Chapter 2 Season 3, the site got flooded. However, as the water level decreased over time, the Crash Site returned.
Crash Site (POI) Top View
* Click on the map to view geographic sub-locations.
Crash Site was added to the map.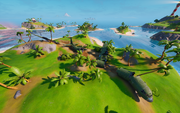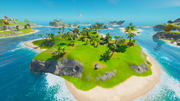 Monitor screens at the Crash Site landmark begin to flicker every so often.
The Crash Site has been grown over by the plants. Coral have also began to appear around the island. Interestingly, some of the parts of the plane have been stripped off and taken away, most likely to Shadow Safe House - Alpha where similar parts of the plane are.
The stage north of Sweaty Sands has continued construction.
Multiple inflated astro heads have appeared around land nearby the stage.
The stage is now complete and a countdown has appeared with a big purple beacon appearing in the sky (much like the yellow beacon from the Season 4 The Blast-Off Event and the Season X Event The End Event). The Astronomical Event was an event that took place on the 23-25 April and had a total of 5 shows.
The Crash Site has been flooded over by water and has been surrounded over by a large amount of rubble, making it no longer a landmark.
July 11th: The water level decreased and a piece of rubble has been cleaned up, allowing the Crash Site to now be seen clearly underwater. The site has also became a landmark again.
July 24th: The water level decreased even more, the last piece of rubble has been cleaned up over the landmark, and more of the Crash Site has been uncovered.
July 27th: The water level decreased further, accessing the rest of the Crash Site, however one half of the island has been destroyed.
August 1st: The water level decreased further, and a sinkhole has been created connected the Crash Site to Coral Castle. The plane parts that were on the half of the island that collapsed fell over and got scattered on the east side of the Coral Castle.
The Crash Site is a reference to a plane crash from the TV show Lost.

E.G.O.


Possible Members


Former Members


Locations

Crash Site

Former Locations


Weapons