Craggy Cliffs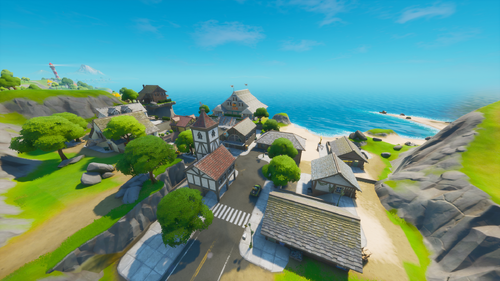 Craggy Cliffs is a named Point Of Interest in Battle Royale which was added to the map in Chapter 2 Season 1, located inside the coordinates E1, E2, F1 and F2, northwest of Steamy Stacks, northeast of Doom's Domain and north of Stark Industries. It is a small seaside town with a Fishsticks restaurant and a grand cliffside.
Craggy Cliffs Top View
* Click on the map to view geographic sub-locations.
For more details on structures, visit Craggy Cliffs/Buildings
Craggy Cliffs was added to the map.
December 7th: Multiple posters have appeared around Craggy Cliffs, having the same information as the Risky Reels movie screen of Star Wars.
December 15th: All posters about the Star Wars event have been taken down.
December 25th: Craggy Cliffs has been covered in snow.
January 8th: The snow melted from Craggy Cliffs.
April 17th: Multiple posters have appeared around Craggy Cliffs relating to music, a planet, and Sweaty Sands.
Craggy Cliffs has completely flooded and only the tops of some buildings are accessible, and the Sticks logo had Fishstick's face covered in seaweed, in the shape of a mustache. The location is now also a landmark.
June 30th: The water level has receded, and the Hotel has completely drained of water. However, the rest of Craggy Cliffs is still flooded.
July 18th: With the water level receding again, almost all of the water in Craggy Cliffs has been removed.
July 24th: The water level receded once again, and Craggy Cliffs has completely been drained of water. Because of this, it is a Named POI again.
Craggy Cliffs has completely reverted back to normal. All artifacts that were destroyed or misplaced have been reset to their original spots.
The Shadow and Ghost Henchman have visited Craggy Cliffs.
The Shadow and Ghost Henchman left Craggy Cliffs.
The original name for this location was Beachy Bluffs.
Craggy Cliffs was the most northern named location on the map before The Yacht was added.
Craggy Cliffs is very similar to Lazy Lagoon in the building design and structure. This might be an Easter egg, but it's also possible that the developers recycled elements from Lazy Lagoon just to save time.
Despite being a residential area, Craggy Cliffs didn't receive any changes when Fortnitemares 2019 and 2020 came around.
Craggy Cliffs is the first location to have an official Fish Sticks Restaurant. It was previously advertised on blimps and in Neo Tilted on the Chapter 1 map.
An upgrade bench can be located in the big 3 door warehouse down by the beach.