Castle (POI)
| | |
| --- | --- |
| | This article is about the unnamed location from Chapter 1 located near Haunted Hills. For other uses, see Castle. |
This map/grid location appeared until Chapter 2 Season 1 and has since been updated.
Some sublocations, points and mapping might have been removed or changed. Please see Coral Cove (POI) for the latest information about the map.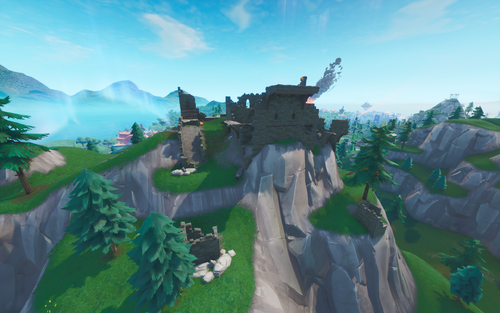 Castle was an Unnamed Landmark in Battle Royale added in Season 6, located inside the coordinate B2 and B3, at the northwest corner of the Battle Royale Map. It was a decayed castle located at a top of a mountain east of Haunted Hills. It was added at the start of Season 6 and much of it collapsed at the start of Season 7.
Castle (POI) Top View
* Click on the map to view geographic sub-locations.
Castle is added to the map.
The towers of the castle have crumbled down and the main building has decayed heavily.
December 25th: The Castle was covered in snow for Christmas Day.
December 26th: The snow disappeared.
January 19th: The Castle was covered in snow in the aftermath of the Ice Storm Event.
February 1st: The snow melted from The Castle.
There is now a wind turbine in the mountain.
The wind turbine was removed from the mountain.
The castle was sucked into a black hole.