Camp Cod (POI)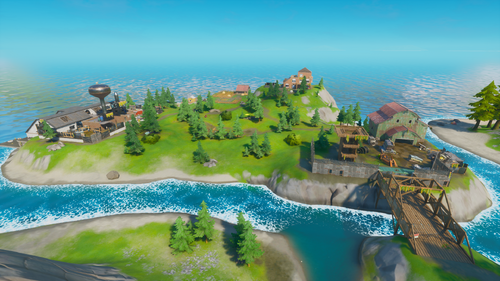 Camp Cod is a Landmark in Battle Royale added in Chapter 2 Season 1, located inside the coordinates F8 and G8, far southeast of Misty Meadows,south of Catty Corner and Weather Station and far south of Lazy Lake. It is a small island which is connected by a bridge with storage area for what seems to be old objects from the Chapter 1 Map. This location has a total of 18 chests.
Camp Cod (POI) Top View
* Click on the map to view geographic sub-locations.
Many items from the Chapter 1 Battle Royale map can be found here, such as the following:
The destroyed Clock from the Clock Tower, originally at Tilted Towers before the location was destroyed and the clock was moved to Junk Junction.
Fields from Fatal Fields. (Although this could be a regular farm inside the area.)
A warehouse resembling the Filming Studio (POI) has ended up destroyed and used as storage and a shooting range.
The bear statue from Lonely Lodge. (It could also be the one outside Retail Row.)
A hut, possibly from Fatal Fields, but without a top.
The Boneyard sign holder from Junk Junction.
Camp Cod was added to the map.
Several Ghost recruitment posters have appeared around Camp Cod.
Camp Cod has flooded significantly, leaving almost the entire location underwater and inaccessible besides the top of a silo, now holding a chest with arms and legs.
July 11th: The water level decreased, revealing the small house on the top of Camp Cod.
July 18th: The water level decreased further, revealing slightly more area on the top of Camp Cod.
July 24th: The water level lowered further, revealing slightly more of Camp Cod.
July 27th: The water level decreased even further, and most of Camp Cod is now available to loot.
July 30th: Small parts of Camp Cod are left flooded.
August 1st: The last parts of Camp Cod have been revealed.
Multiple vases have appeared in the house.
The barn housing most of the Chapter 1 artifacts has randomly disappeared.
The missing barn has returned.
Camp Cod is the biggest landmark on the chapter 2 battle royale map. It have also more chests than other landmark(18)
This was originally going to be a named POI, as hinted in the files of the game.
If you go on one of the carpets, you can fall through, going into a secret area with multiple chests.
It is possible this is home to The Visitor and/or The Scientist.