Beach Bus (POI)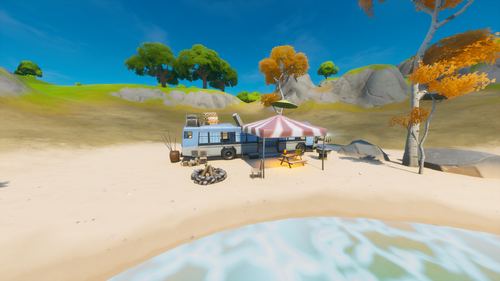 Beach Bus is a Landmark in Battle Royale added in Chapter 2 Season 1, located inside the coordinate G2, west of Steamy Stacks, far east of Craggy Cliffs and far northeast of Frenzy Farm. As its name implies, its a bus that is on a beach and appears to have been converted into a home, with a campfire, some loot and an Upgrade Bench.
In Chapter 2 Season 3, it is currently located between coordinate E6 and E7, southwest of Lazy Lake and northwest of Misty Meadows, it currently shows it as the Motorboat Mayhem POI though.
Beach Bus (POI) Top View
* Click on the map to view geographic sub-locations.
Beach Bus was added to the map.
The Shadow and Ghost Henchman have visited Beach Bus.