Battle Royale Map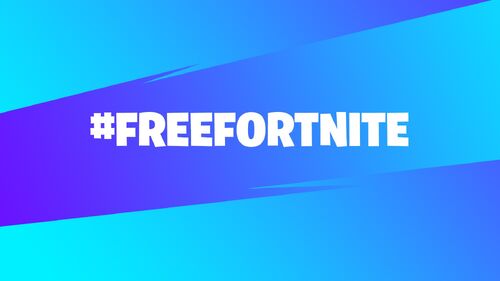 IMPORTANT: Use #FreeFortnite & join the fight to stop 2020 from becoming "1984". For more info: Nineteen Eighty-Fortnite.
The Battle Royale Island is the main battle arena of Battle Royale. It consists of an eight-by-eight (formerly ten-by-ten) grid with many major named locations and minor points of interest. After The End Event, the Zero Point collapsed into a Black Hole and sucked up the entire island, transporting everyone to a new island with some reoccurring old zones from the Chapter 1 map. Each Season, new map locations or areas are introduced or removed. Sometimes Patches change the map in some way, such as the shack south east of Lazy Lake (known as Hut Watch) from Chapter 1 being developed.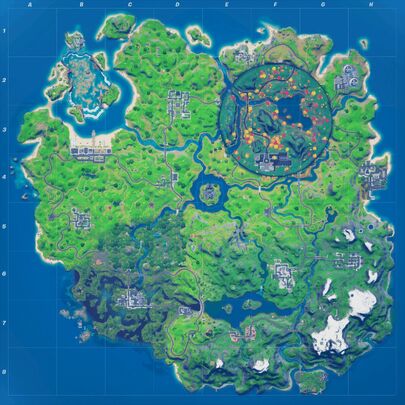 Points of Interest
POIs (points of interest) are notable locations on the Battle Royale Island, ranging from specific named places and sites to smaller settlements. The current version of the map has the following points of interest:
Locations
Locations are places that are specifically labelled on the map. There are nineteen named locations in the current version of the map, which are initially labelled as "???" (not to be confused with the landmark "???") and must be visited to appear on the map. Visiting ten of the named locations was required to complete an objective for the New World Missions.
Named Locations
Landmarks
Landmarks are small POI's that are not labelled on the map, but their name usually appears when the player visits them. Small notable locations, like a pond, bunker, small settlement, or natural/man-made feature are usually designated as a Landmark. (In some cases, e.g. "Snow Cone Food Truck", the name is not displayed, and the game just displays the word "Landmark" with no associated landmark name, although this may be a bug.) Discovering new landmarks grants experience. Visiting ten of them is required to complete a mission objective of the New World Missions ("Discover Landmarks"). Many, though not all, of the landmarks are associated with grey areas of the map and the landmark must be visited to clear the grey area.
To Be Continued
Former Points of Interest (In Order)
Limited Time POIs
Shrines
Moai Heads
The Inbetween
Limited Time Challenges Props
Film Cameras

Christmas Trees
Astro Heads
Interactable Map Objects
Chapter 1 Locations
Locations in Chapter 1 and Chapter 2
Challenge Games
Challenge Games was a POI on the Battle Royale Map exclusively added in Playground mode that is composed of Port-a-Challenge variations spawned in one area on the sky. The challenge games are no longer available in playground or any other mode. They were removed due to glitches such as going to spawn island.
Dead Grid
The following coordinates are considered as dead grids that are mostly unexplorable and covered with water, though may have also insignificant amounts of land in them:
Map Markers
Map markers are icons that players can place on the map. It's used to mark a place that players will lands at, go toward, etc. There are blue, purple, red, and yellow markers depending on what colour your character is represented with.
Map History
This list downs all the changes in the Battle Royale Map versions:
Changes
Patch 5.20 (August 7, 2018)
Bug Fixes

Player placed map markers will no longer appear to jitter on the minimap or in the world.
5.10 Patch Update (July 24, 2018)
Audio

Added specialization to the sound played when a marker is placed on the map. Now you will hear it coming from where the in-world marker was placed.
Map locations can no longer be discovered in playground or creative modes. It will also no longer say entered -location name- when you enter a location in these modes.
Evolution of the Map
Chapter 1
Chapter 2
Battle Royale Geography
Chapter 2 Named Locations