14.4 Patch Notes
14.4 Patch Notes
Date

21 October 2020

Major Patch
14.4
Chronology

← Previous

Next →

See all Patch Notes
Content Creator Patch Notes
[
edit
|
edit source
]
Fortnitemares returns with a terrifying twist in Solos, Duos, and Squads! What was once The Agency has been reclaimed by the ranks of a reawakened mastermind out for revenge. Join his army to fight alongside friend and foe alike and snatch a shadowy victory from the living.
The Island is overrun with haunted huts and daunting decorations. Complete new challenges and get a new terrifying Back Bling, Pickaxe, XP, and more!
Loot Pool Changes: Trick or Treat Edition
[
edit
|
edit source
]
We're vaulting the Charge Shotgun; let us know how this changes your play. Ghoulish weapons have returned to aid in the shadowy showdown. Soar through the skies like a witch, while those with a sweet tooth will find new treats quite enhancing. More super-powers are rotating in, so put those fists up!
The yearly spooky event is back with some brand new haunting changes!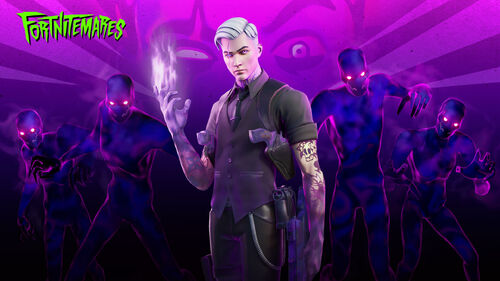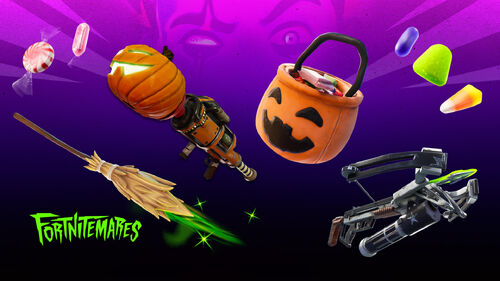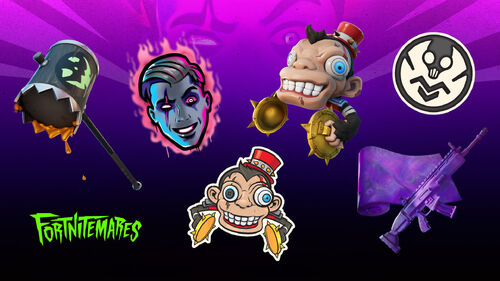 Midas is back to take his revenge! He took over The Authority and made the island a bit spookier and transformed it to The Ruins.
With a brand new events comes new challenges and rewards. Here is a list of the current challenges :

Log in the game during Fortnitemares 2020 : Bobo's Watching Emoticon.
Eat 25 Candies (Party Assist Mission) : Midas' Shadow Wrap.
Travel 100 meters using the Witch Broom : 40 000 XP.
Become a Shadow 3 times : 40 000 XP.
The Authority has been taken over by Shadow Midas.
The superstore near Holly Hedges has finished construction and is now called Hey Boo! Superstore.
She-Hulk's Fists
Details
Damage
45, 55, 70, 100 per combo
Structure Damage
80

Special Ability 1 Leap Smash : In the air, leaps to the ground dealing an area of damage. Cooldown : 5 secs
Special Ability 2 Power Leap : Leaps high up in the air. Cooldown : 7 secs
Special Ability 3 Dodge
Shadow Midas' Drum Gun
Details
Bullet Type
DPS
204
Damage
24
Fire Rate
8.5
Magazine Size
40
Reload Time
2.7
Structure Damage
24
Witch Broom

Details
Fly to the the skies like the witch and glide your way down. You can cancel it early by pressing your shoot button, fall damage is removed. (only in Fortnitemares: Midas' Revenge)
Cooldown : 20 secs
The Lobby has been given a Fortnitemares background.

Though, it's an image (non-animated).
Trick or Treat - Picked up Candy during Fortnitemares.
Spiritual Successor - Got a Victory Royale during Fortnitemares.
I will have my Revenge - Got a Nightmare Royale during Fortnitemares.
Squish - Landed on Ant-Man.
Back to the Shadows - Defeated Shadow Midas during Fortnitemares
Ghost Rider - Processed a vehicle during Fortnitemares
Hell on Wheels - Drove a vehicle as Ghost Rider
Shadows Curse - Eliminated by Shadows 13 times during Fortnitemares.
Shadow of your Former Self - Turned into a shadow during Fortnitemares
I collect Spores, Molds, and Fungus - Gathered a Foraged item while wearing a Ghostbusters outfit during Season 4.
You now only have 1 Stark Robot allied with you at a time. (Previously, 3)
Fore more details, see : J Balvin in Party Royale Blog Post
J Balvin will host his own concert in Party Royale on October 31st!

If you own the Party Trooper outfit and you attend at the event, you will get an exclusive style.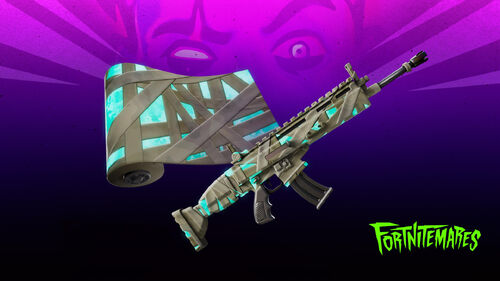 | | | |
| --- | --- | --- |
| " | Over the course of Fortnitemares, Fortnite Creative will feature four Fortnitemares-inspired featured islands. Buried in each featured island, you'll be able to discover digits of a mysterious code. Explore these haunted islands and combine 20 total digits to unearth the Wrath's Wrath Wrap. | " |
| | — Epic Games on their Blog Post | |
The first island will be available later today, October 21.
Return to Fortnite Creative each day through October 24 to check out a new featured island and find the new digits.
After you find all the digits, enter the completed code at fortnite.com/redeem to add the Wrath's Wrath Wrap to your Locker!

(The redemption code will expire on October 27 at 10 AM ET.)
Weeping Woods Prefabs & Galleries
Added the 3rd Fortnite Birthday Cake to the Indoor Residential Prop Gallery.
Added Swamp Water to the Elemental Cube Gallery.
See : Bug Fixes in Creative - v14.40 Blog Post

This page is currently in Work In Progress.
Some content on this page may be missing, uncomplete or unfinished. Help us by filling out the missing parts & other pages.